For those who go off the beaten path, there are places in the British Isles where nature is still wild and history can be touched.
This expedition-style voyage fr om Plymouth to Edinburgh is your chance to discover some of the British Isles' most historically significant and wildlife-rich destinations. Cruising aboard our small, luxury expedition ship is the perfect way to visit difficult-to-access locations where tourist value far exceeds tourist numbers.
We begin with beautiful Tresco in the Isles of Scilly. We continue to Ireland wh ere we visit the Skellig islands, renowned for their seabirds and monastery ruins. In Scotland we explore early Christian history on the peaceful Isle of Iona, magnificent archeological sites in the Orkney Islands, and exciting birdlife on Shetland's beautiful Fair Isle.
HIGHLIGHTS

Abundant seabirds, rich flora and Bronze Age mines on the scenic limestone headland of Great Orme near the vibrant seaside town of Llandudno in north Wales
Hebridean beauty and excellent birding near a gorgeous medieval abby on the tranquil Isle of Iona
Orkney's world-class cultural heritage complete with Neolithic village site, ancient henge monuments, Romanesque cathedral and historic Burgh of Kirkwall
Nesting puffins, an intact prehistoric village site and an Iron Age broth in the beautiful Shetland Islands

DEPARTURE/RETURN LOCATION
Plymouth – (England) to Edinburgh – (Scotland)
DEPARTURE DATES

8 May 2020 – 20 May 2020 

DURATION
13 days/12 nights
PRICES per person

* Take advantage of our seasonal offer and save up to AU$ 4 299 per person 
Valid through to 31 January 2020 for new bookings only.

* Half-price for children in double-occupancy cabin with adult: Children under 12 years old travel at half the regular rate in double-occupancy cabin with adult.

AU$8,595  Triple Suite //NOW AU$6,586
AU$11,895  Main Deck Suite //NOW AU$9,556
AU$12,695  Classic Suite //NOW AU$10,276
AU$12,995  Superior Suite //NOW AU$9,896
AU$14,595 Deluxe Suite //NOW AU$11,256
AU$16,195 Premium Suite //NOW AU$12,616
AU$20,995 Owner's Suite //NOW AU$16,696

Cruise rates are quoted per person and based on passengers sharing a cabin. Single supplement: 1.7 x for Main Deck and Classic, Superior Suite; 2 x for Deluxe, Premium and Owner's Suite.

GROUP SIZE
110 Guests
INCLUDED

Group transfers from the airport to the hotel on the day prior to departure
Group transfer to ship on day of embarkation

Group transfer to airport or central location upon disembarkation
Shipboard accommodation
All scheduled landings/excursions
Leadership throughout the voyage by our Expedition Leader & Expedition Team
All meals on board throughout the voyage
Tea and coffee station 24 hours daily

Branded Poseidon Expeditions Parka
Rubber boots for shore landings for the time of the cruise
Welcome and Farewell cocktails
All port fees
Pre-departure materials
Digital Voyage Log

NOT INCLUDED

International air-tickets and taxes
Pre and Post land arrangements

Excess baggage on any flight
Vaccination costs

Passport or Visa fees
Travel Insurance

Items of a personal nature such as drinks, laundry
Any other meals or sightseeing not specified in the detailed itinerary
Additional information
| | |
| --- | --- |
| Destination | British Isles, Scotland |
Day 1
Embark in Plymouth, England
Welcome to the port city of Plymouth in southwest England, where a rich maritime heritage sets the mood for the beginning of our exciting voyage. In the afternoon we welcome you aboard the luxury expedition ship M/V Sea Spirit. Explore the ship and get settled in your comfortable and spacious suite. Then join us on deck and feel the sense of adventure build as we slip our moorings and sail out of the historic harbour.
Day 2
Fresco, Scilly Isles, England
The Isles of Scilly is a group of small islands off the coast of Cornwall boasting mild weather, secluded beaches, enchanting wildlife and a relaxed lifestyle. On the lovely, sand-fringed island of Tresco, Bronze Age burial sites and romantic 17th-century castle ruins reveal a long and dramatic history. On the hallowed grounds of a Benedictine abbey we discover the exquisite Tresco Abbey Garden with its spectacular collection of more than 20,000 exotic plants from all corners of the world. Here we also find the Valhalla Museum, a collection of colorful figureheads salvaged from the islands' shipwrecks. Delightful cafés and local shops enrich your experience even further.
Days 3-4
Republic of Ireland
With good weather and the permission of authorities, we plan to visit the Skellig Islands. These remote, uninhabited rocky islets off the southwestern coast of Ireland are a favorite breeding site for seabirds, including thousands of Atlantic puffins and a large colony of northern gannets. Other bird species breeding here include the European storm petrel, northern fulmar, Manx shearwater, black-legged kittiwake, common guillemot, and razorbill. The rich waters around the islands are home to whales, dolphins and seals. The island of Skellig Michael is also known for its well-preserved early Christian monastery, a UNESCO World Heritage Site.
Dunmore East is a popular tourist and fishing village in County Waterford on Ireland's southeastern coast. From here it is a short journey through scenic countryside to theHouse of Waterford Crystal. Here you can take a guided tour of the factory to see the master craftsmen at work as well as the world's largest collection of their wares. Also nearby is Mount Congreve, a magnificent 18th-century Georgian estate and botanical gardens containing thousands of plant species on 70 acres of intensively planted woodland and a four-acre walled garden.
Day 5
Llandudno, Wales
Our port for today is the vibrant seaside town of Llandudno in the north of Wales. From here we embark on a scenic overland tour of Snowdonia National Park. We drive through some of the wildest and most dramatic landscapes in Britain as we discover craggy mountains, stunning waterfalls, crystal clear lakes, dense woodlands and flowering meadows. Snowdonia is also renowned for wildlife including otters, water voles, wild ponies and rare birds such as dotterel and peregrine falcon. We enjoy a delightful stop at the charming and distinctively Welsh town of Betws-y-Coed in the Gwydyr Forest.
Also on the itinerary for today is the magnificent Conwy Castle. Step inside this impressively preserved 13th-century fortress for a genuine look at castle-life in medieval Britain. Pass through the fortified gateways, climb the huge towers, and walk along the battlements for breathtaking views of the estuary and town below. The castle and the walls surrounding the town of Conwy are a UNESCO World Heritage Site.
Day 6
Northern Ireland
Today we disembark at the small seaside resort town of Portrush in Northern Ireland. We travel overland to the world-famous Giant's Causeway. Here we discover a geological masterpiece—40,000 closely packed hexagonal basalt columns of varying heights descending like a staircase into the sea. According to legend, the columns are the remains of a causeway built by a giant. In this area we are also able to spot various seabirds such as fulmar, petrel, cormorant, shag, redshank, guillemot and razorbill.
We plan to land on Rathlin Island off the coast of Northern Ireland. This small island of outstanding natural beauty is home to about 150 people and hosts tens of thousands of nesting seabirds—one of the largest seabird colonies in Europe. At the West Light Seabird Centre—housed in a fully operational lighthouse built atop an impressive sea cliff—you can enjoy great viewing of countless puffins, guillemots, kittiwakes, razorbills and fulmars. The island also boasts a resident seal population and enough history to fill its charming museum to the rafters.
Day 7
Inner Hebrides, Scotland
Weather permitting, we also plan to visit the uninhabited island of Staffa. This island of volcanic origin is easily recognized by its striking colonnade of hexagonal basalt pillars. Here we hope to explore the island's most famous feature, Fingal's Cave. Reaching deep into the island, the undulating sea plays upon the stunning matrix of columnar basalt to create an eerie melody which was the inspiration for Felix Mendelssohn's Hebrides Overture. The rugged island also provides nesting sites for seabirds including guillemots, razorbills and puffins.
Today we also explore beautiful and serene Iona, a small island in the Inner Hebrides just off the Isle of Mull in western Scotland. At the gorgeous Iona Abbey, founded in 563 AD, we are spellbound by one of Scotland's most historic and sacred sites and indeed one of the oldest Christian religious centers in Western Europe. The adjacent graveyard is said to be the final resting place of numerous medieval kings, including Macbeth. In addition to its historical and religious significance, Iona is well known for its soul-soothing tranquility, white sand beaches and excellent birdwatching.
Day 8
Outer Hebrides, Scotland
The Outer Hebrides, also known as the Western Isles, are a chain of dramatically rugged islands off the west coast of mainland Scotland. The most isolated of these is St Kilda. This remote and storm-ravaged island was continuously inhabited for at least two millennia by peoples of extraordinary hardiness. But as the modern world closed in after World War I, the remaining inhabitants chose to evacuate. Now we find only their rough stone buildings and distinctive storehouses called cleitean, all set amidst some of the most dramatic island scenery in the British Isles. Nature-lovers will be delighted, as the island is home to hundreds of thousands of seabirds, two early types of sheep, and over 130 species of flowering plants.
Later, as we sail through the remote and uninhabitedFlannan Islands, we keep a lookout for seabirds including Leach's petrel near their colony on the slopes of Eilean Mòr. Commonly seen in the surrounding waters are minke and pilot whales, as well as several species of dolphin.
Day 9
Kirkwall, Orkney Islands
Upon arrival at the historic port of Kirkwall we embark on an overland tour of Mainland, the largest of the Orkney Islands off the northeastern coast of Scotland. Attractions such as the well-preserved 5000-year-old village site at Skara Brae and the ancient Ring of Brodgar within the UNESCO World Heritage Site "Heart of Neolithic Orkney" showcase the world-class cultural heritage of the island. Back in the charming village of Kirkwall we also find the impressive Saint Magnus Cathedral, built in the Romanesque style by Vikings in the 12th century.
Leave Orkney's biggest island and follow the coast of Scapa Flow to the smaller South Isles. Drive over the first of the Churchill Barriers, built during the Second World War to protect Scapa Flow. You will visit the beautiful, hand-painted Italian Chapel, built by Italian prisoners of war who were interned on this small island during World War Two, the chapel stands as a lasting memorial to peace but also to the ingenuity and skill of the prisoners.
We continue our journey to Highland Park Distillery. Following a short film about Orkney, Highland Park and our Viking roots, we'll enjoy a tour of a working distillery before sampling three selected whiskies from the Highland Park range including 12-Year-Old, 18-Year-Old plus a mystery special edition.
Days 10-11
Shetland Islands
The Shetlands are a group of subarctic islands located about 110 miles north of mainland Scotland. One of the jewels of the archipelago is the Isle of Noss, a National Nature Reserve and Special Protection Area. Here we enjoy a splendid ship cruise along the coastline where towering sandstone cliffs have been weathered into horizontal ledges, making perfect nesting sites for thousands of seabirds including gannets, puffins, guillemots, shags, black-legged kittiwakes, razorbills and fulmars. This is also a great place to spot seals and otters in the water.
On the uninhabited island of Mousa we find the famous Broch of Mousa, the finest preserved Iron Age fortification in the British Isles. At over 40 feet tall, this 2,000-year-old round tower is the tallest broch still standing and is among the best-preserved prehistoric buildings in Europe. The island itself supports a rich diversity of plant life and is also known for grey and common seals, Arctic terns, and a significant colony of storm-petrels.
We come alongside at the port of Lerwick on Mainland, the largest of the Shetland Islands. On a walking tour of this historic town we visit the award-winning Shetland Museum to learn all about Shetland's fascinating heritage and culture. From here we take a scenic overland coach ride through the fertile countryside of Dunrossness to discover Shetland's best destinations. Birders will relish the opportunity to visit the historic lighthouse at Sumburgh Head, the southernmost point of Mainland Shetland. These rugged cliffs attract thousands of seabirds and the grassy slopes above are particularly great for enjoying close encounters with puffins amongst beautiful wildflowers. Also on the itinerary is Jarlshof, one of the most remarkable archaeological sites in the British Isles. Here we discover beautifully preserved stone structures spanning 5,000 years of human settlement, including Bronze Age oval houses, Pictish wheelhouses, an Iron Age broch, a Viking longhouse and a mediaeval farmhouse.
On Fair Isle—an isolated island of rolling moorlands and rugged coastlines—one is easily enchanted by historic crofts, picturesque lighthouses, and friendly locals. Here we find the internationally renowned Fair Isle Bird Observatory. The island is famous among birders for its abundance of British birds and for its numerous records of eastern rarities and migrants. Fair Isle is also one of Europe's best places to watch seabirds, especially puffins, at close range. Additionally, the island is notable for the abundance and diversity of its wildflowers. Seals are also commonly seen in its bays. Finally, during our visit it will be possible to see and purchase articles hand-knitted in the intricate and distinctive style for which Fair Isle has been celebrated for hundreds of years.
Day 12
Bass Rock, Scotland
Bass Rock is an uninhabited island in the outer part of the Firth of Forth in the east of Scotland. This bastion of volcanic rock, also known as "the Bass", plays host to over 150,000 northern gannets in the breeding season, making it the world's largest colony of these magnificent birds. The island's steep walls are white with guano and the sky all around is darkened by the vast multitude of seabirds in flight. Our voyage is perfectly timed to coincide with this amazing spectacle—truly one of the wildlife wonders of the world.
Day 13
Disembarkation in Leith, Edinburgh, Scotland
After breakfast on board Sea Spirit we say farewell in Leith, Edinburgh's vibrant port district. We provide transfers to the airport or to Edinburgh City centre if you wish to spend more time in the wonderful capital of Scotland.
ADVENTURE OPTIONS
PHOTOGRAPHY is a 
This voyage offers a wealth of subjects for photographers of all levels and interests. Our included photography program gives you the chance to learn and practice your skills alongside a professional photographer.
Zoom out to capture dramatic landscapes of sweeping moorland and rugged coastlines or go macro to expose the beauty of flowers. You will get plenty of practice with the special art of architectural photography as well.
From historical monuments to colorful puffins, the sights on this voyage will make a photographer out of anyone. Our expert will be there to help you make the most of the bounty in your viewfinder.
M/V Sea Spirit
Like some of the birds we see in the Arctic and Antarctica, our m/v Sea Spirit is migratory and follows the sun, northbound in the summer and southbound in the winter, always ready for spontaneous discoveries — a pod of whales, a family of polar bears or a glaciated mountain vista. She is highly maneuverable and capable of navigating the narrow fjords of East Greenland and entering the small bays of Spitsbergen.
Onboard, we create a friendly and welcoming atmosphere for all our guests. They are united by one goal — to have a memorable wilderness experience and to become real polar adventurers. We believe that first-hand travel to such places makes one an ambassador for conservation, and helps strengthen our resolve to protect these natural environments for future generations.
| | |
| --- | --- |
| Length | 90.6 meters (297 ft.) |
| Beam | 15.3 meters (50 ft.) |
| Speed | 15 Knots |
| Passengers | 114 |
| Crew | 72 |
Cabins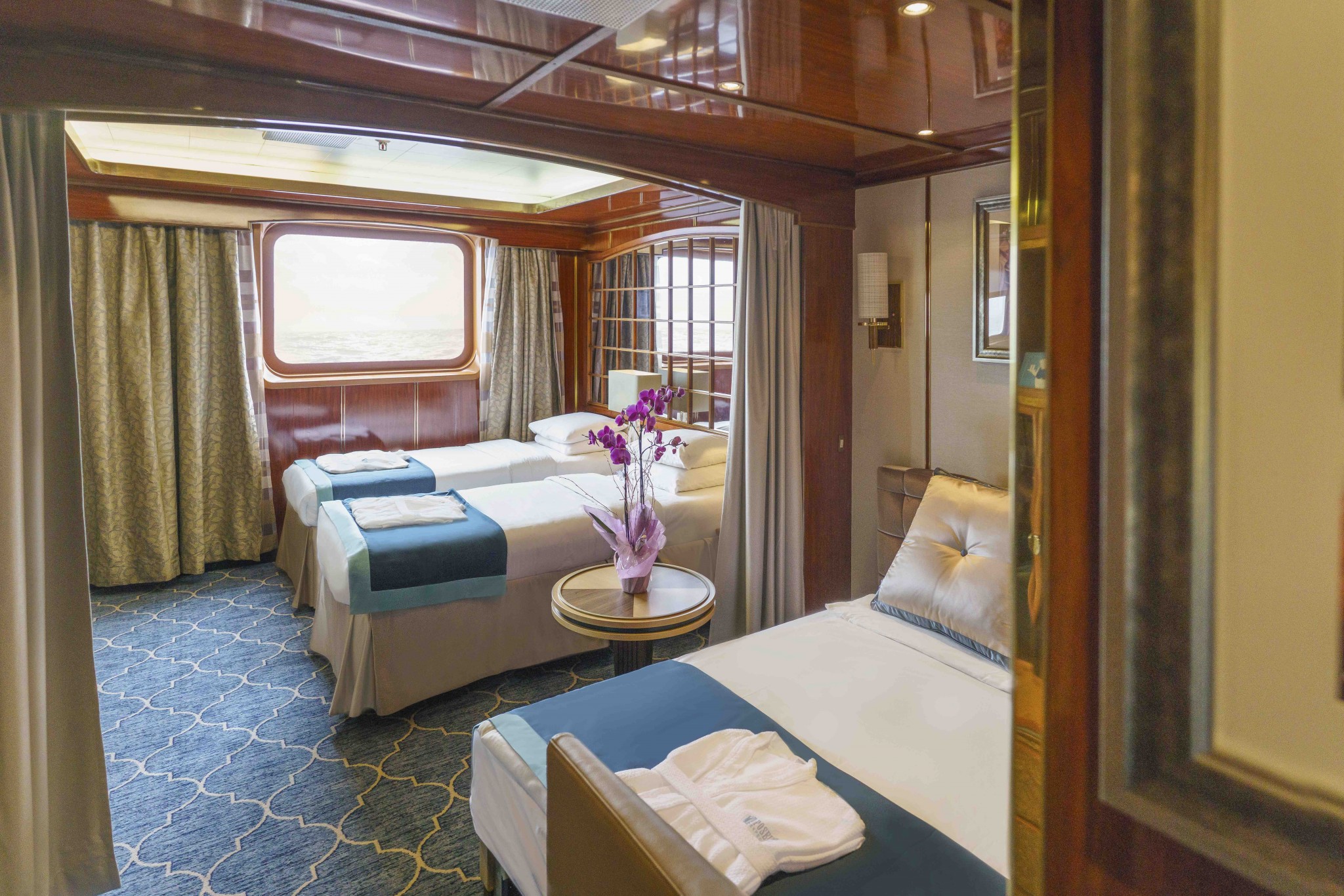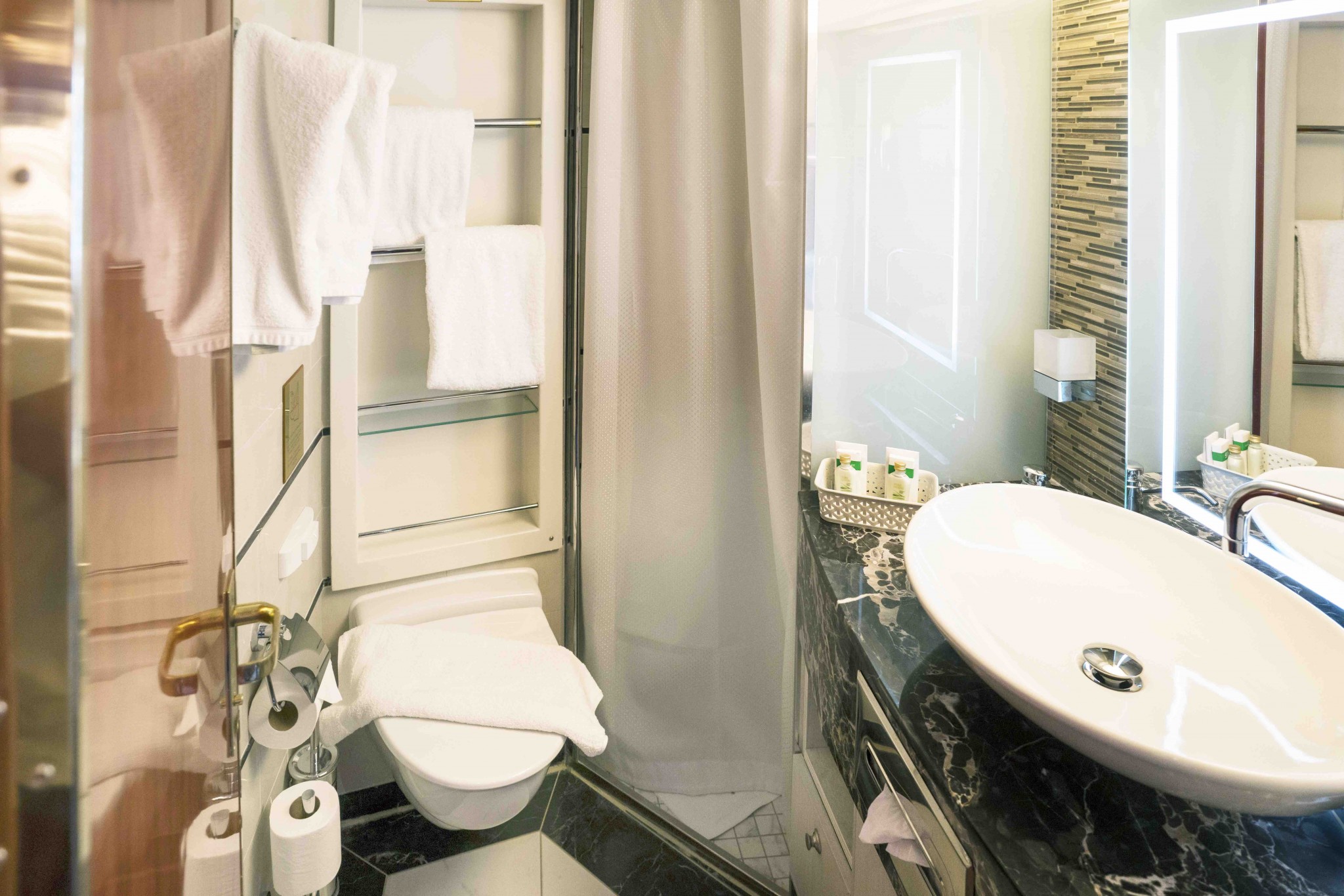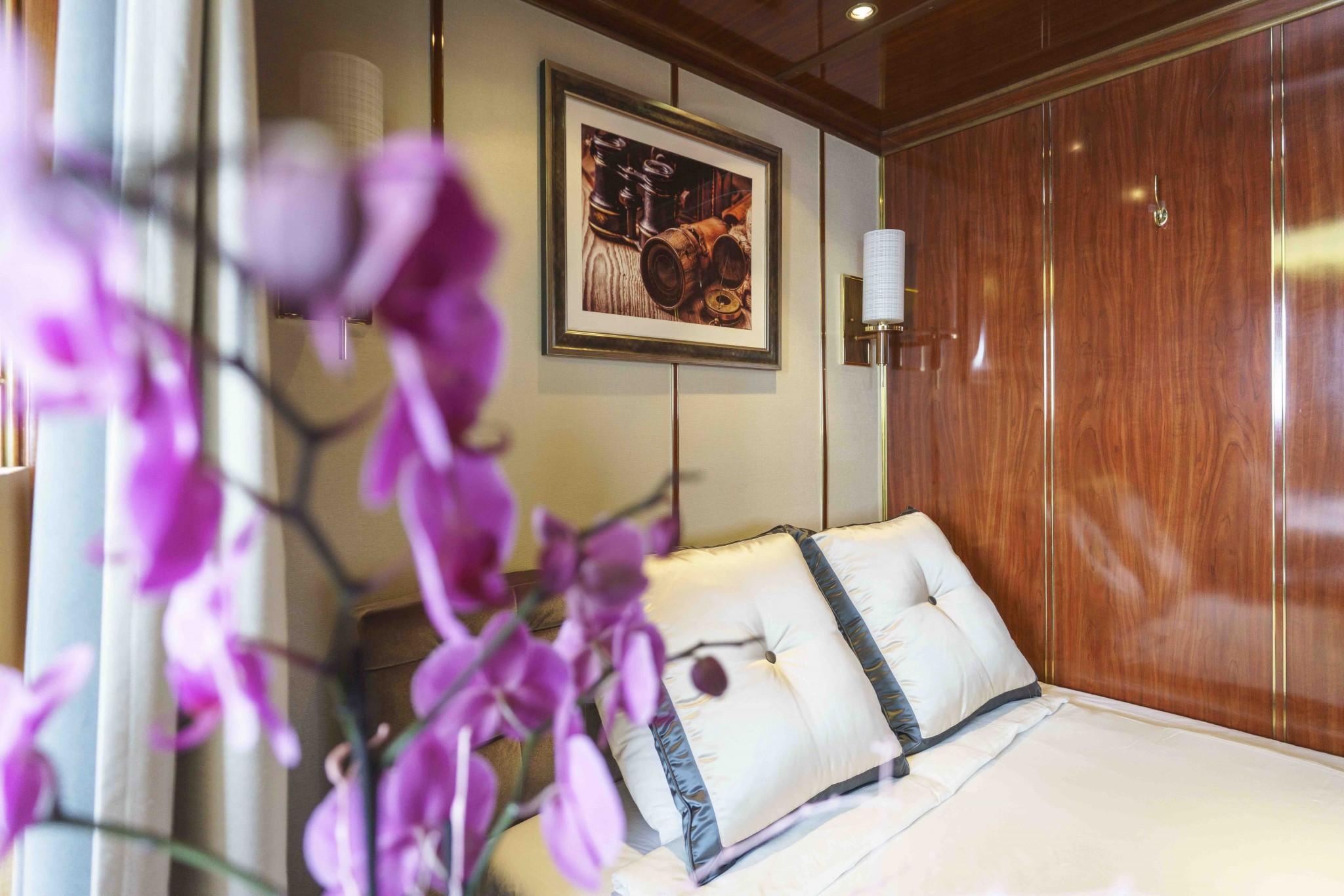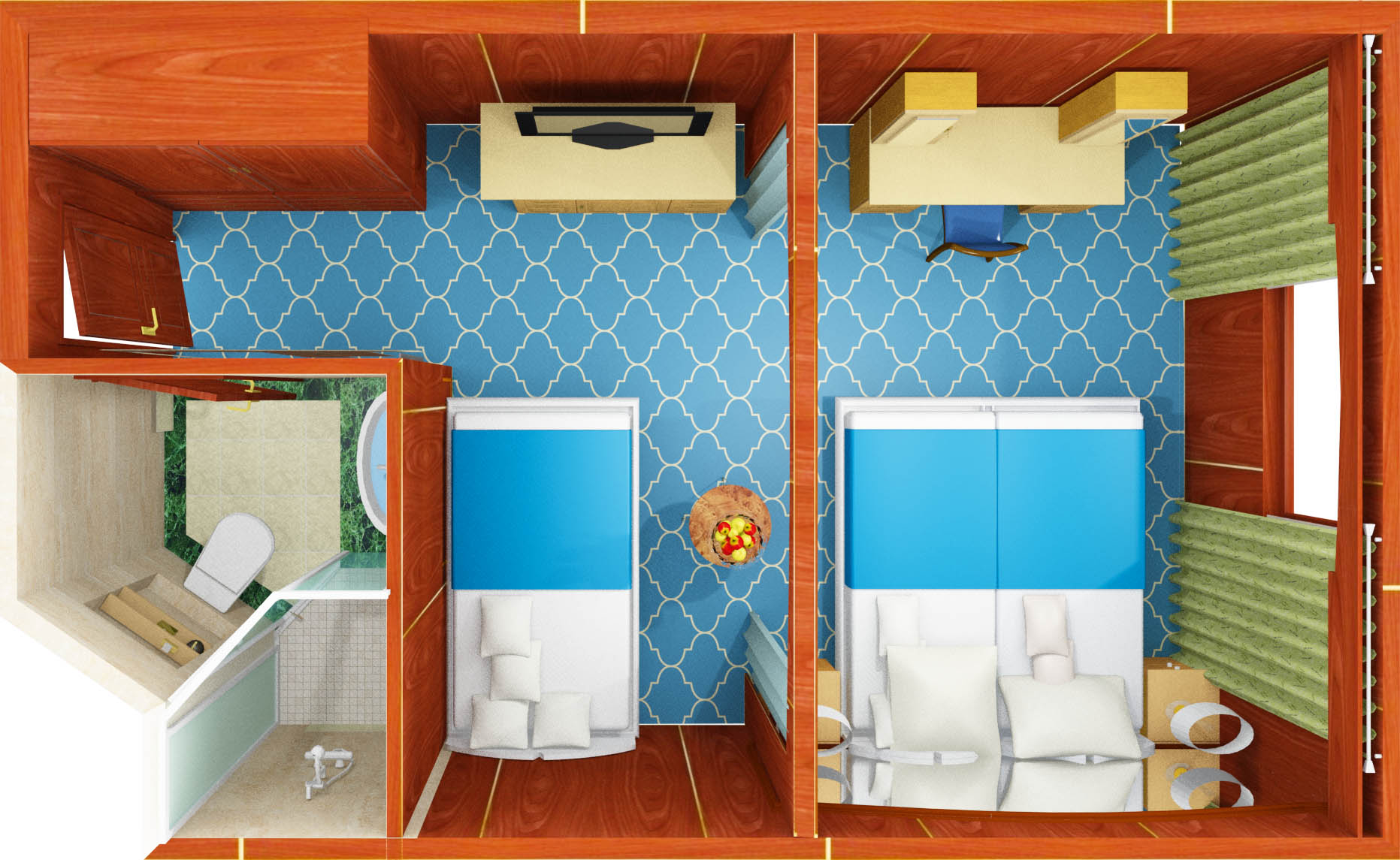 PASSENGERS
SIZE
VIEW
3
21 M² (226 FT²)
PICTURE WINDOW
Averaging 21 square metres/226 square feet, these staterooms have two twins and a comfortable sofa bed. The twins also convert to a King, if desired. Located on Oceanus Deck, these suites have a picture window, two wardrobes and en suite facilities. Amenities include: in-room safe, refrigerator, satellite telephone access, TV/DVD, individual temperature control, and hair dryer.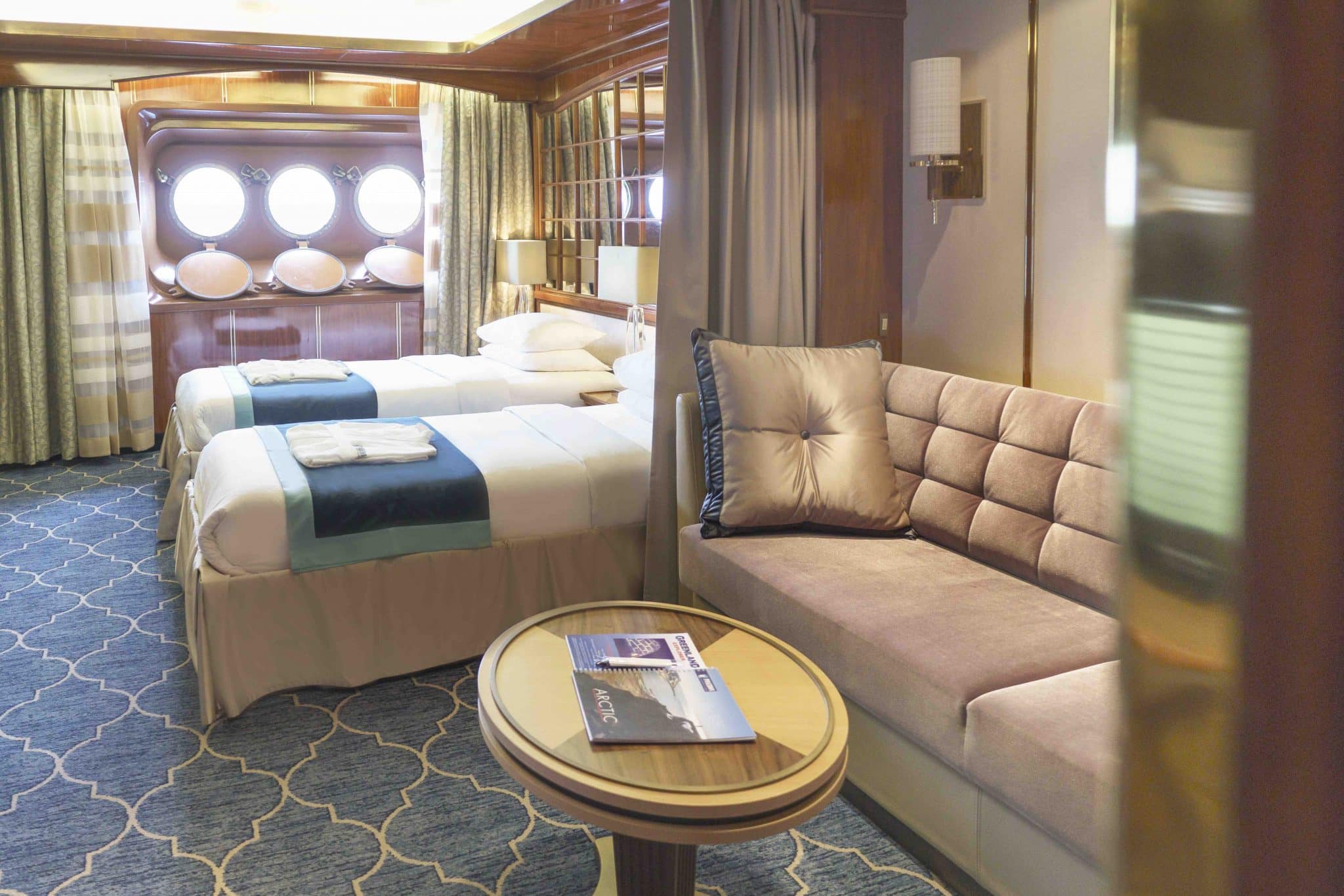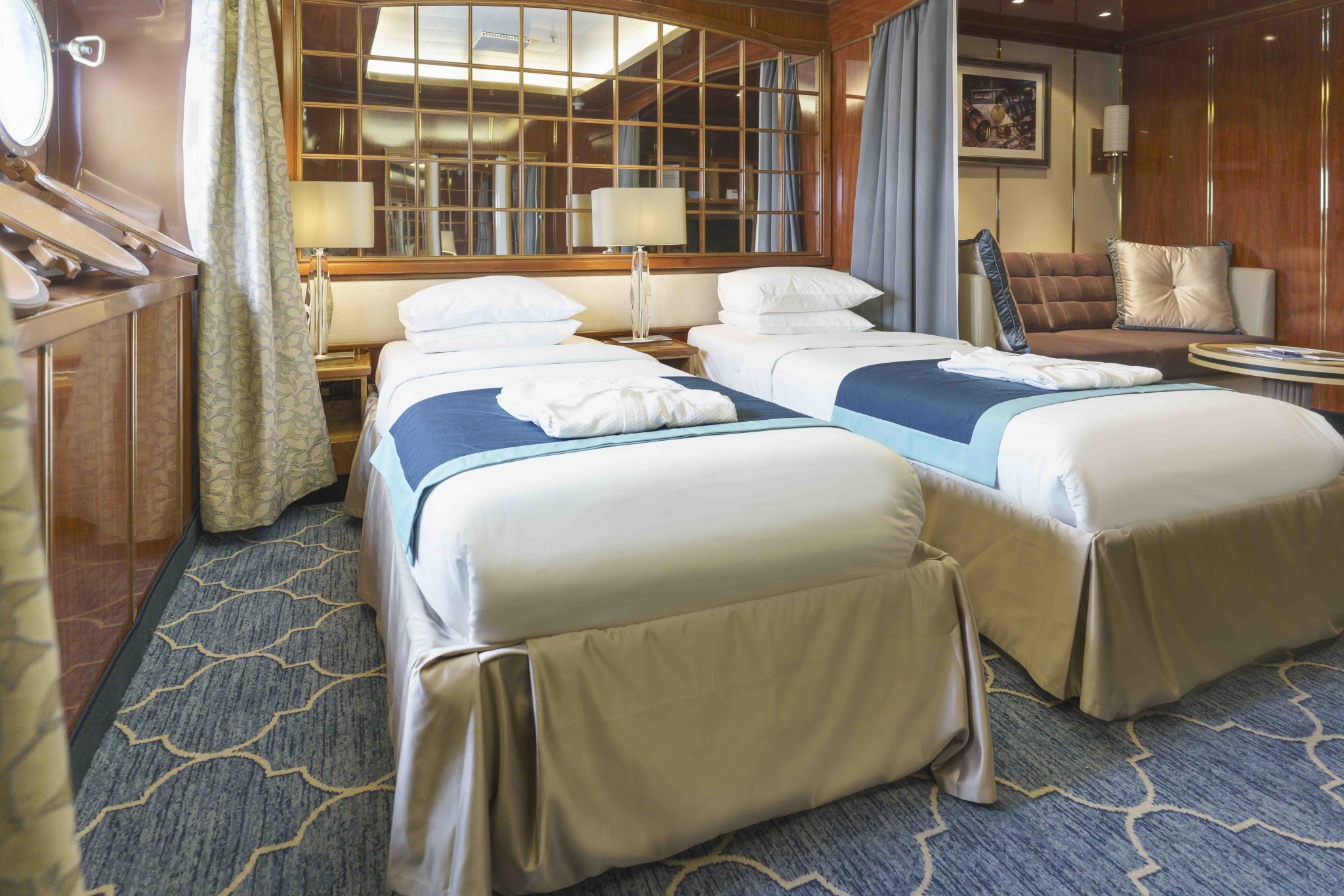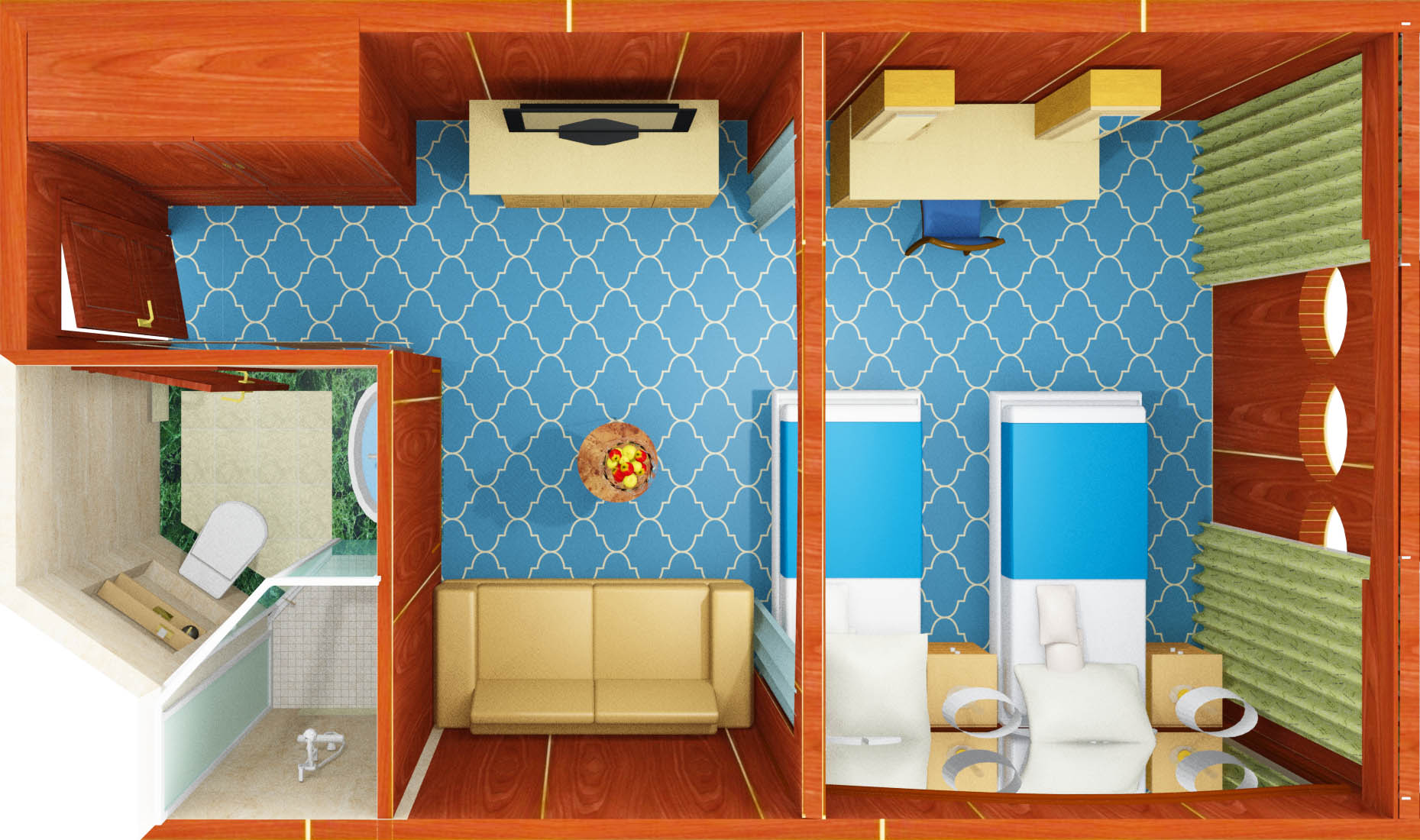 PASSENGERS
SIZE
VIEW
2
23 M² (248 FT²)
PORTHOLES
Averaging 23 square metres/248 square feet, Main Deck cabins are equipped with either two twins or a King Size bed. They are located on the Main Deck with a minimum of two portholes for exterior views. Amenities include: en suite facilities, in-room safe, refrigerator, satellite telephone access, TV/DVD individual temperature control and hair dryer.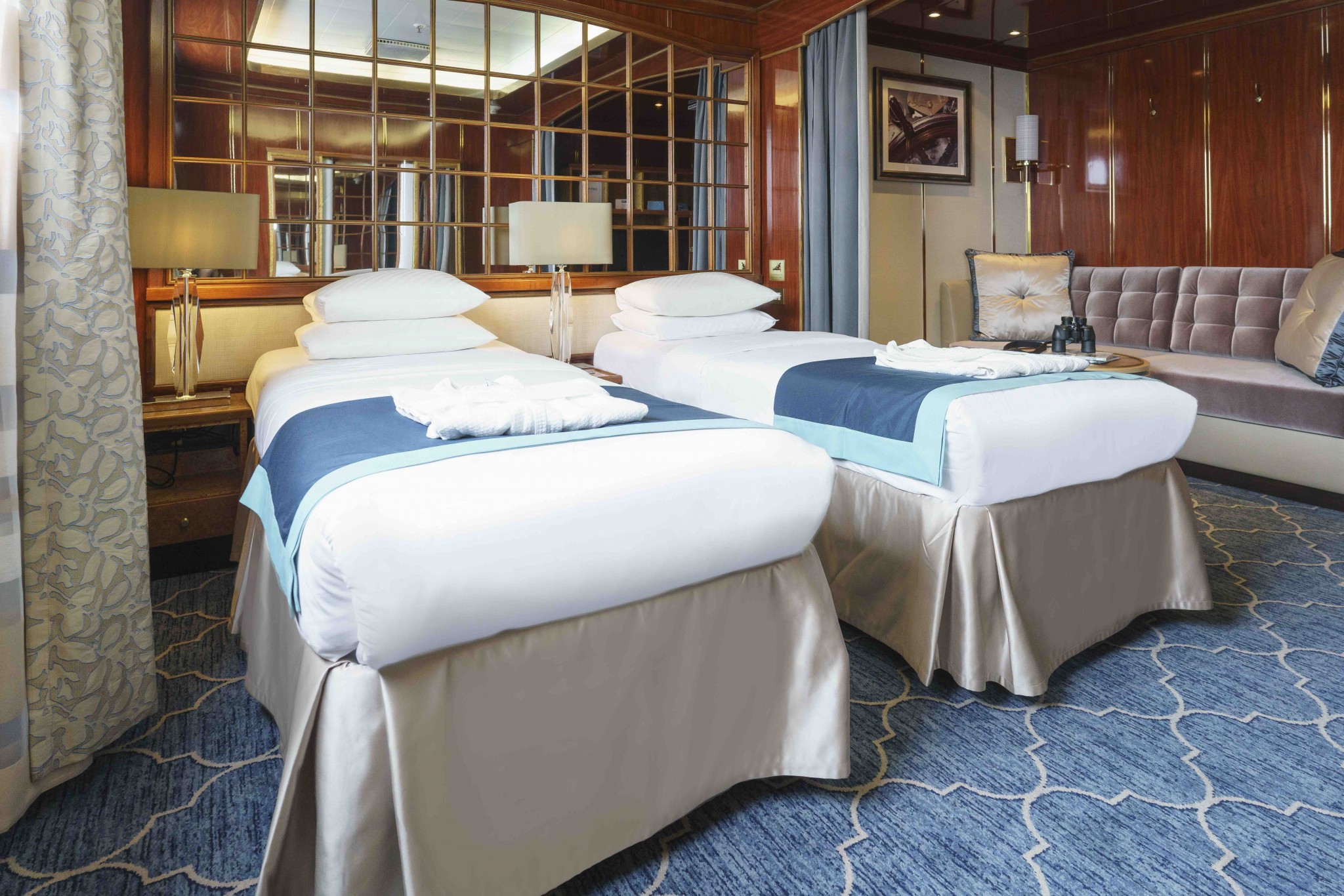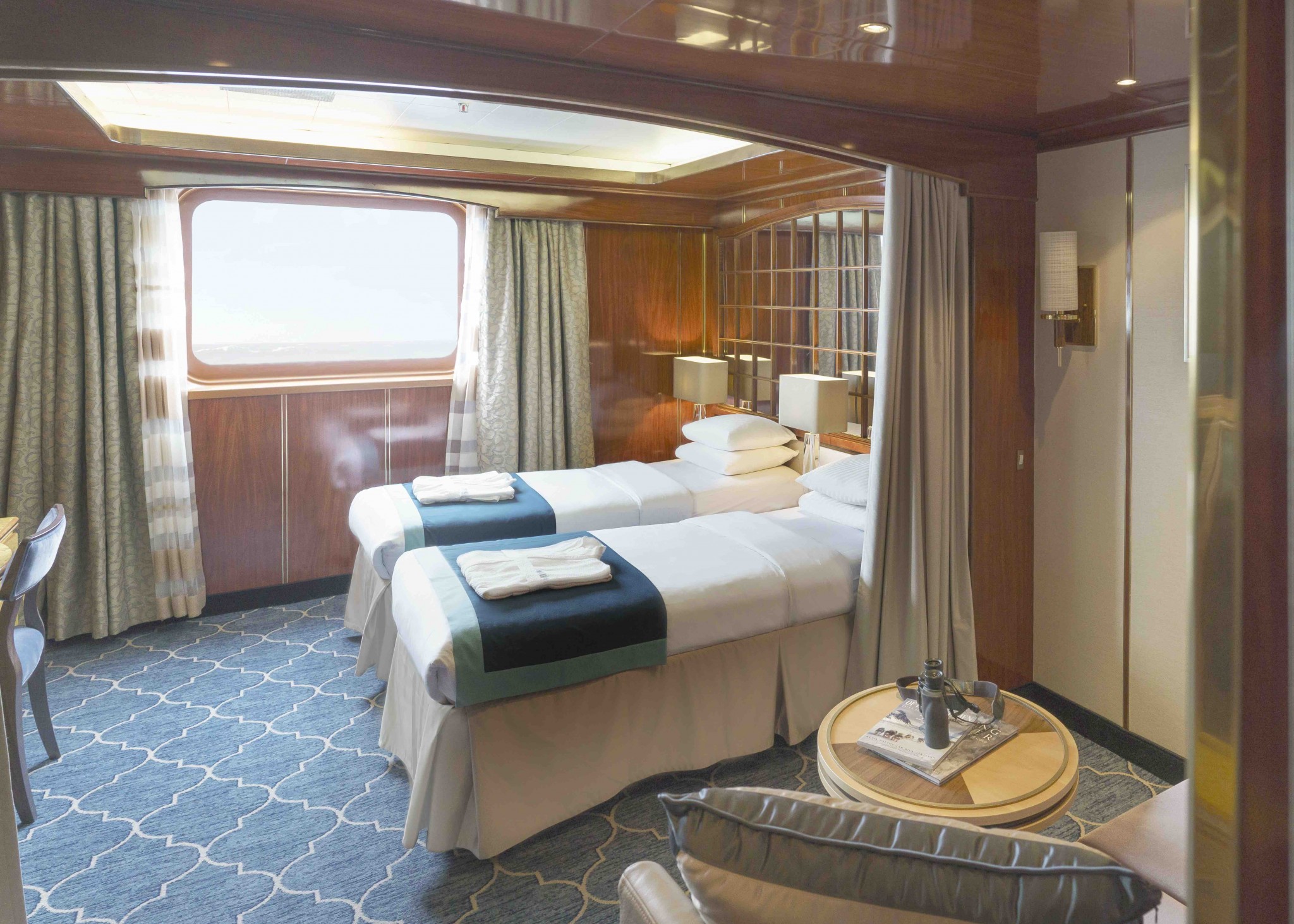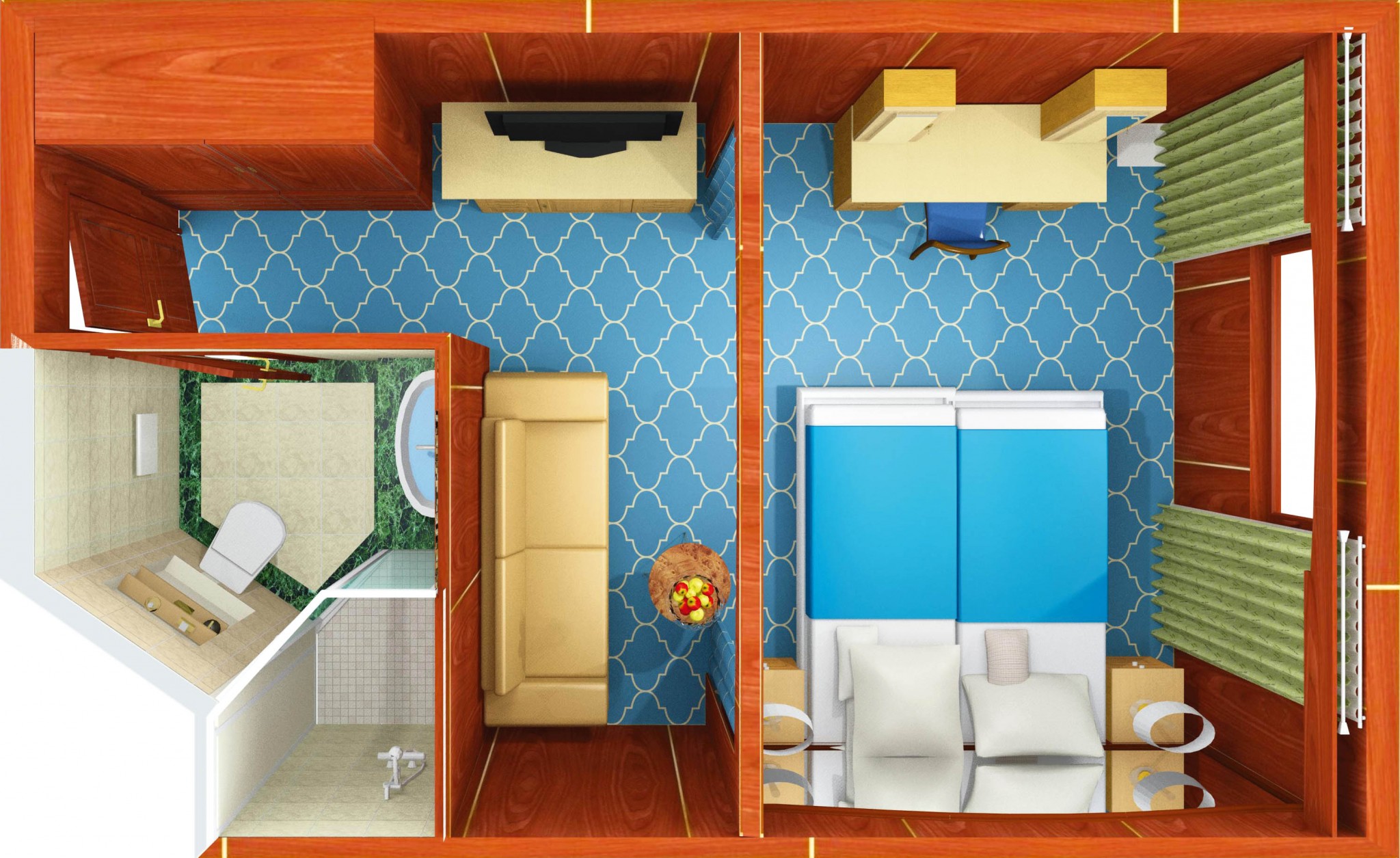 PASSENGERS
SIZE
VIEW
2
21 M² (226 FT²)
PICTURE WINDOW
Averaging 21 square metres/226 square feet, these cabins are located on the Oceanus Deck. They feature a picture window, two wardrobes and a choice of either two twin beds or a King Size bed. Amenities include: en suite facilities, in-room safe, refrigerator, satellite telephone access, TV/DVD, individual temperature control and hair dryer.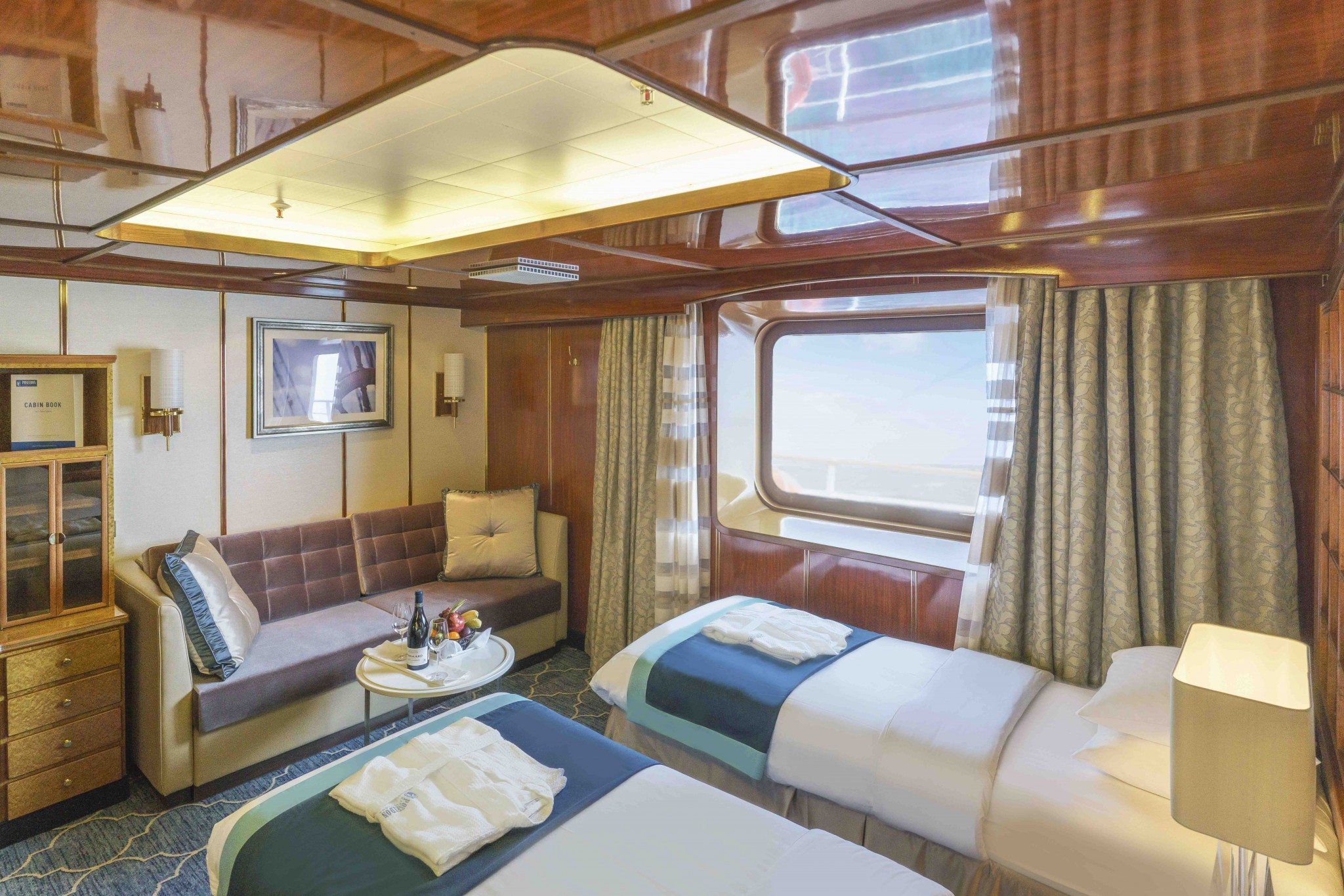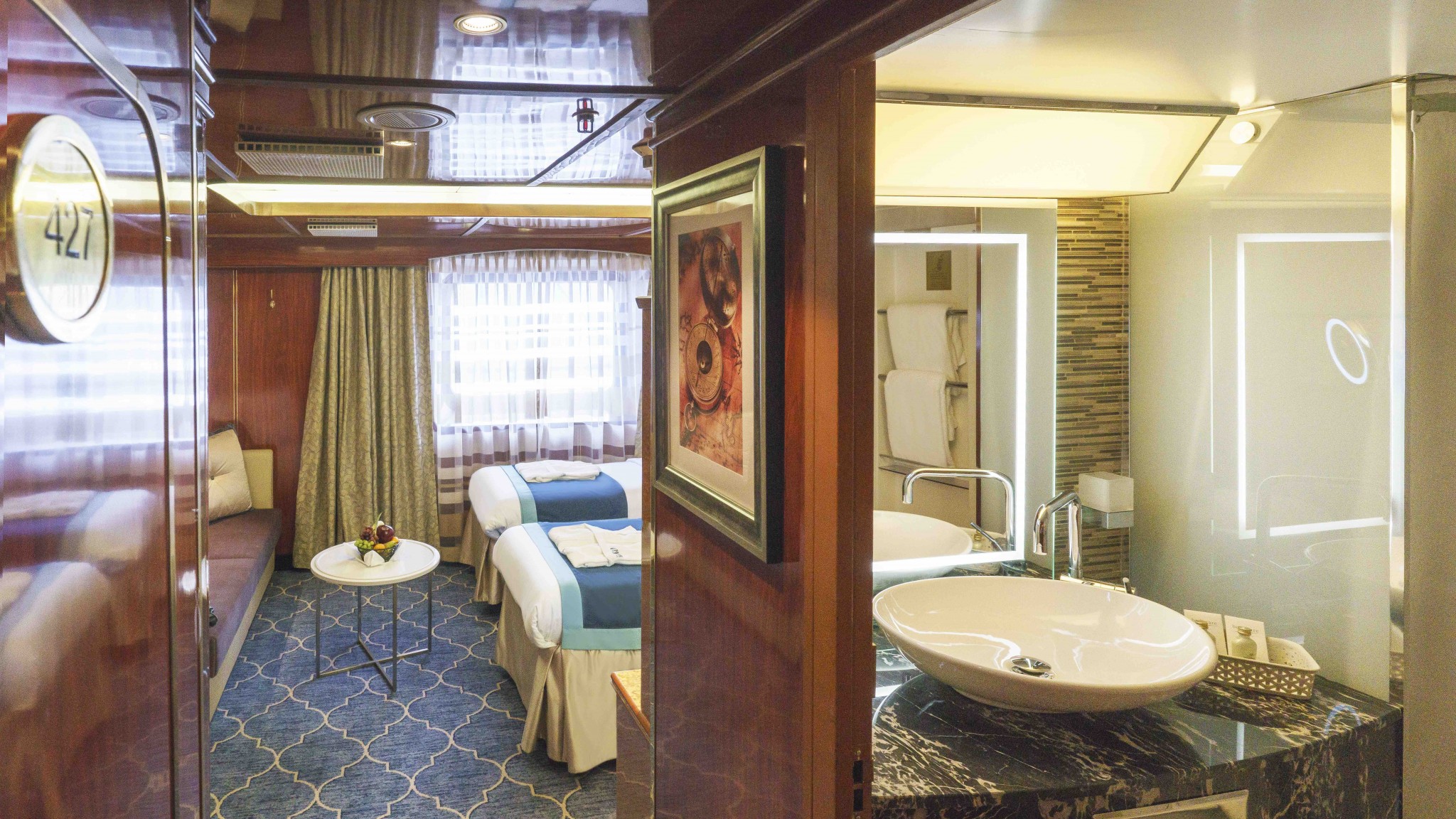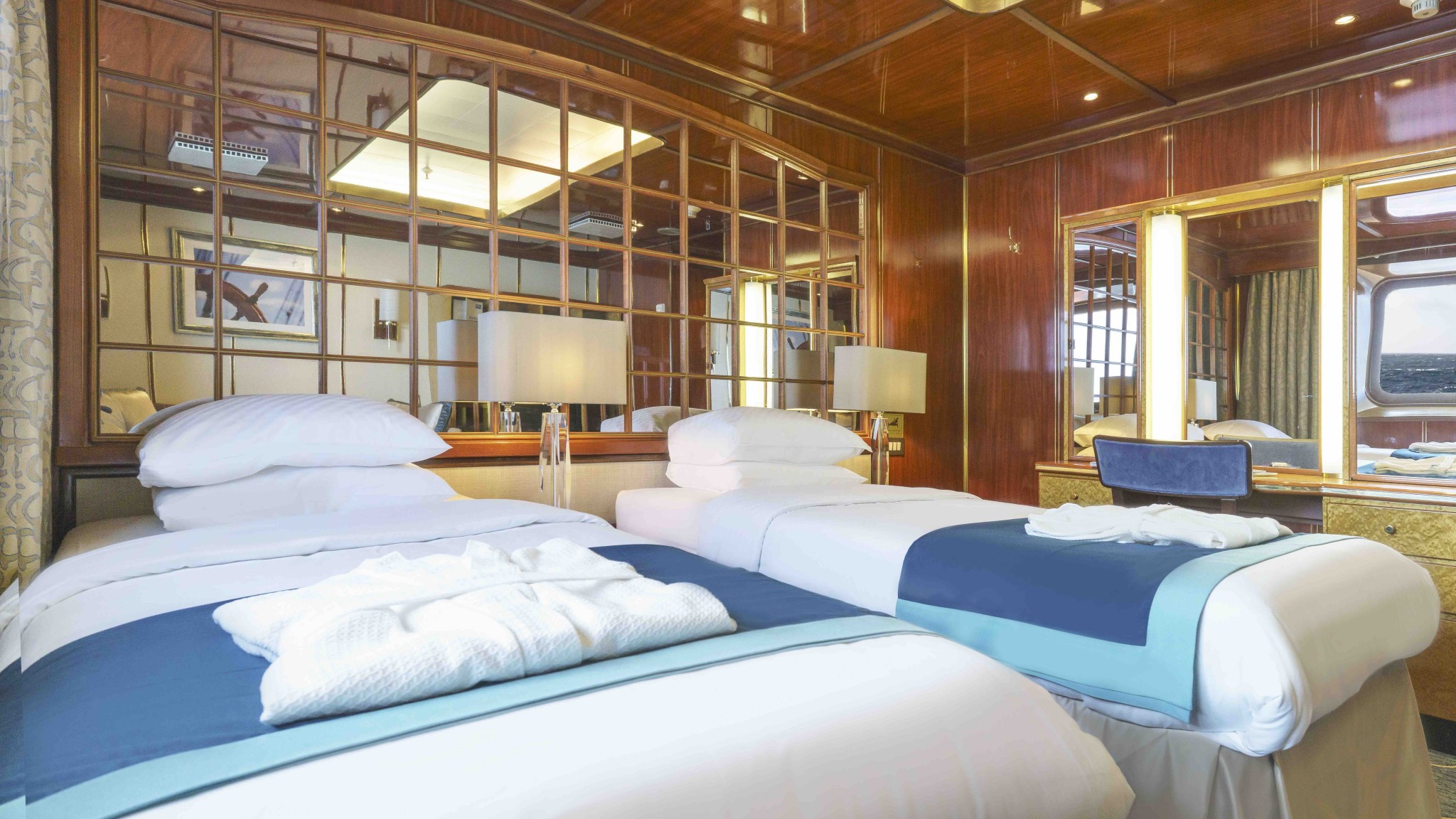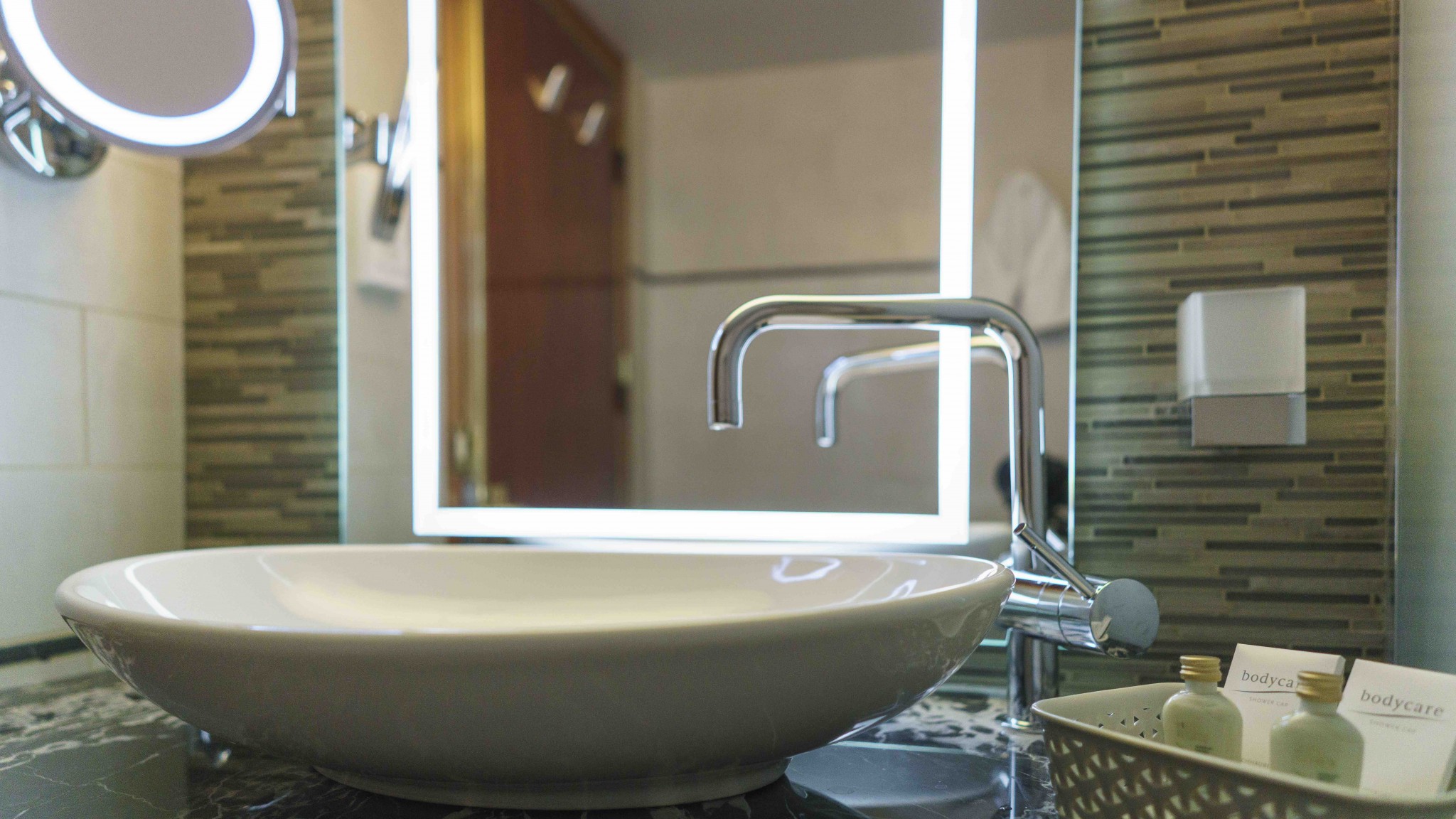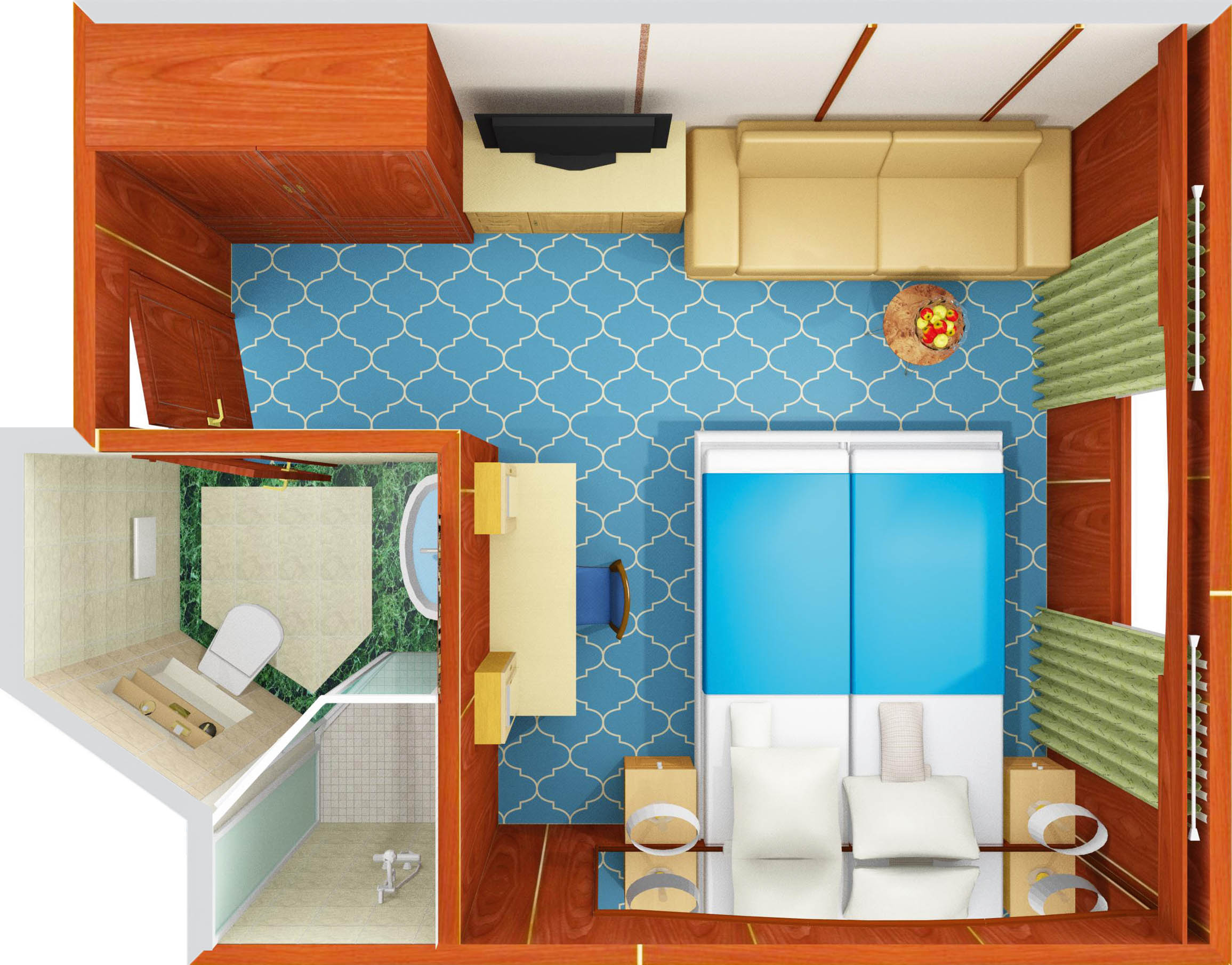 PASSENGERS
SIZE
VIEW
2
20 M² (215 FT²)
PICTURE WINDOW
Superior Suites are located on the Club Deck. Averaging 20 square metres/ 215 square feet, these cabins feature two twin beds or a King Size bed. The picture window overlooks an outside walkway on the Club Deck. Amenities include: en suite facilities, walk-in closet or wardrobe, in-room safe, refrigerator, satellite telephone access, TV/DVD, individual temperature control, hair dryer.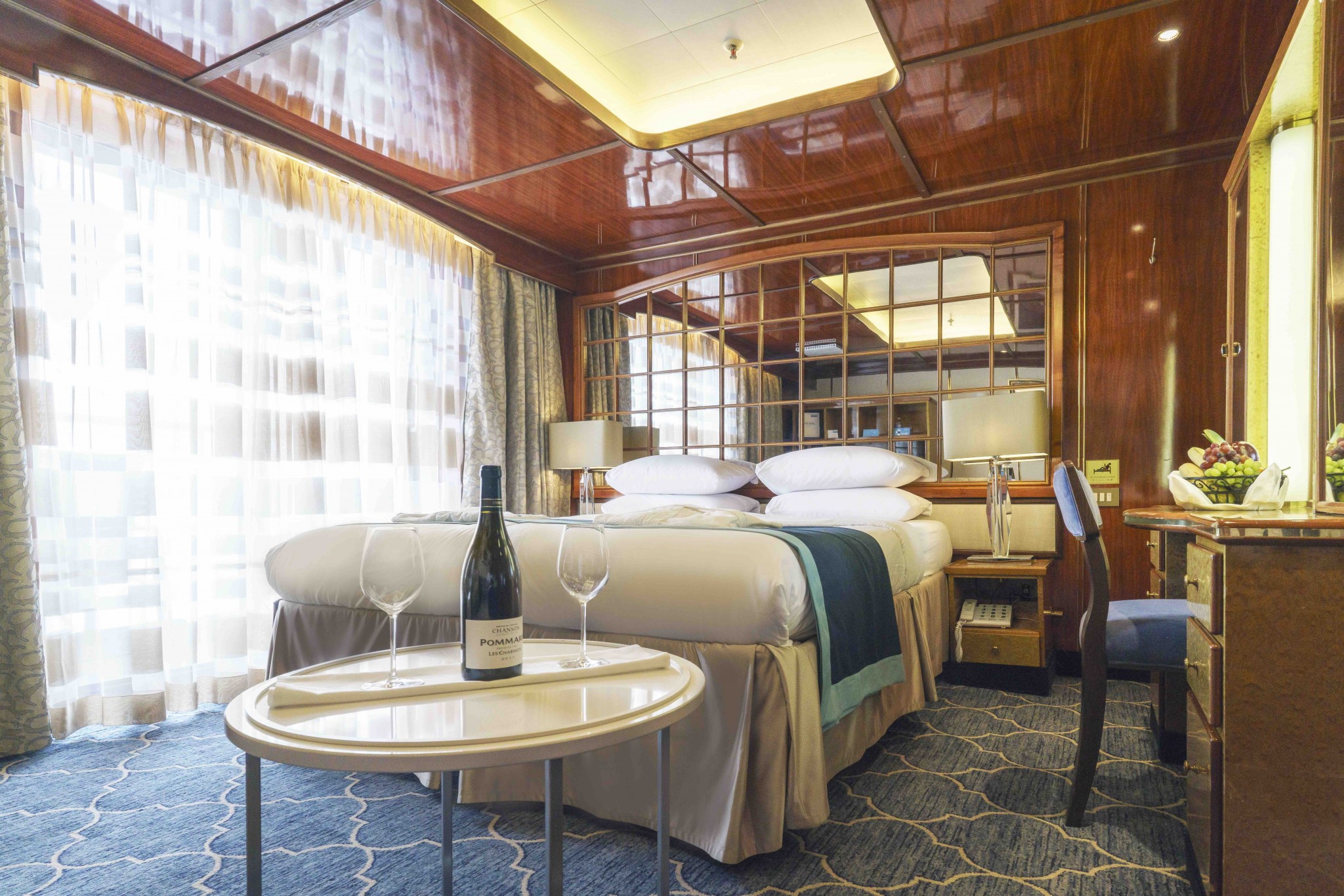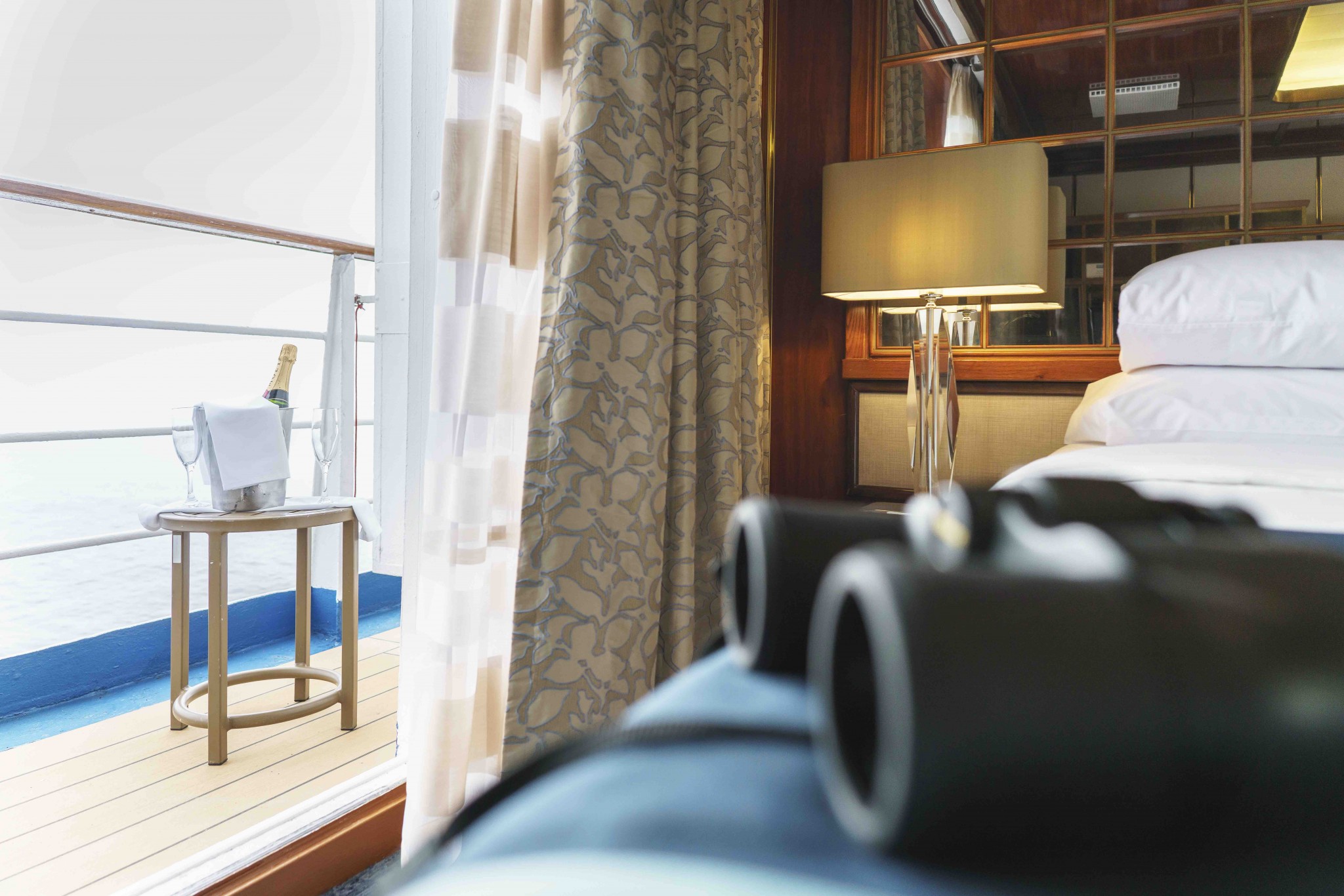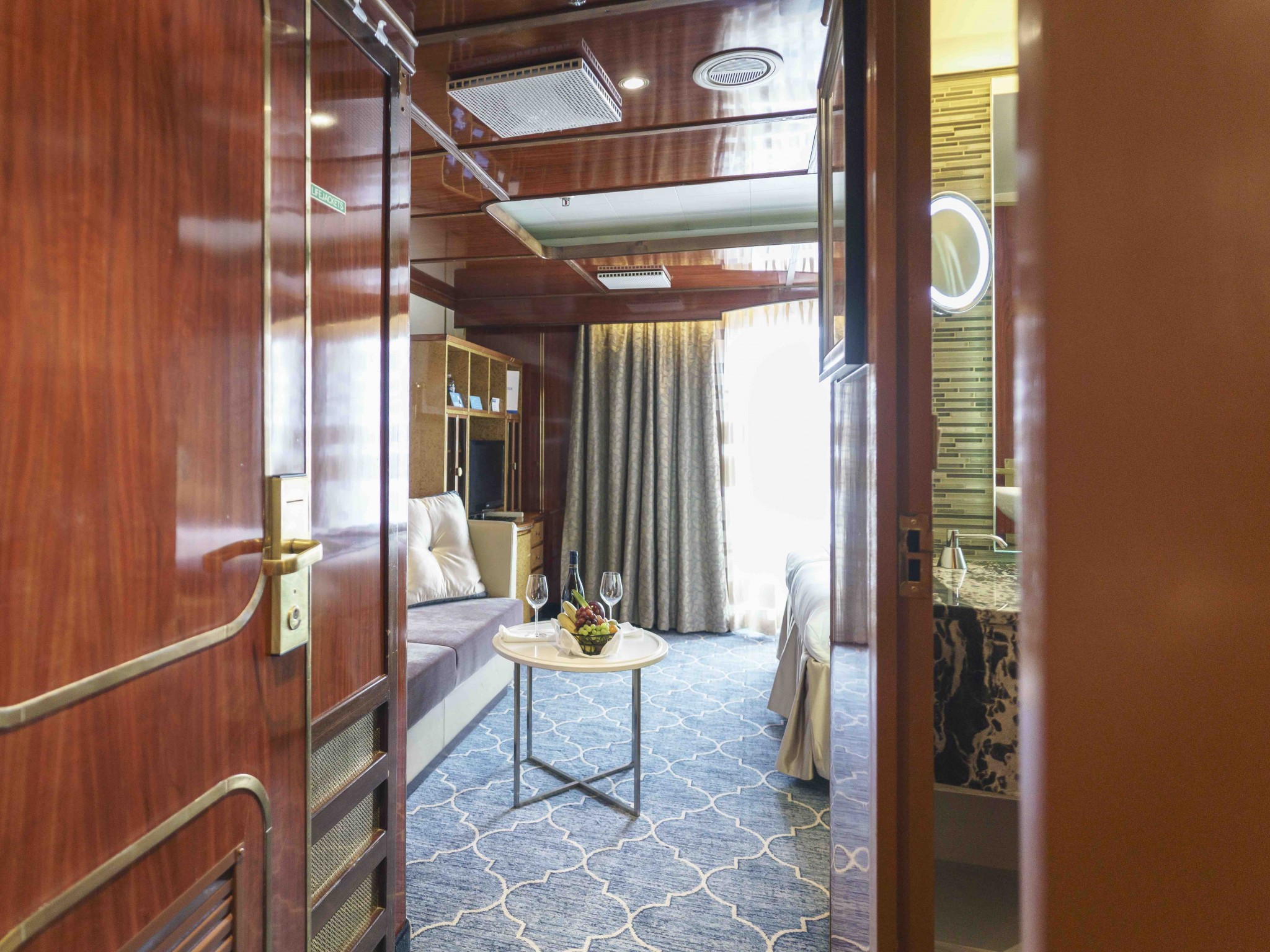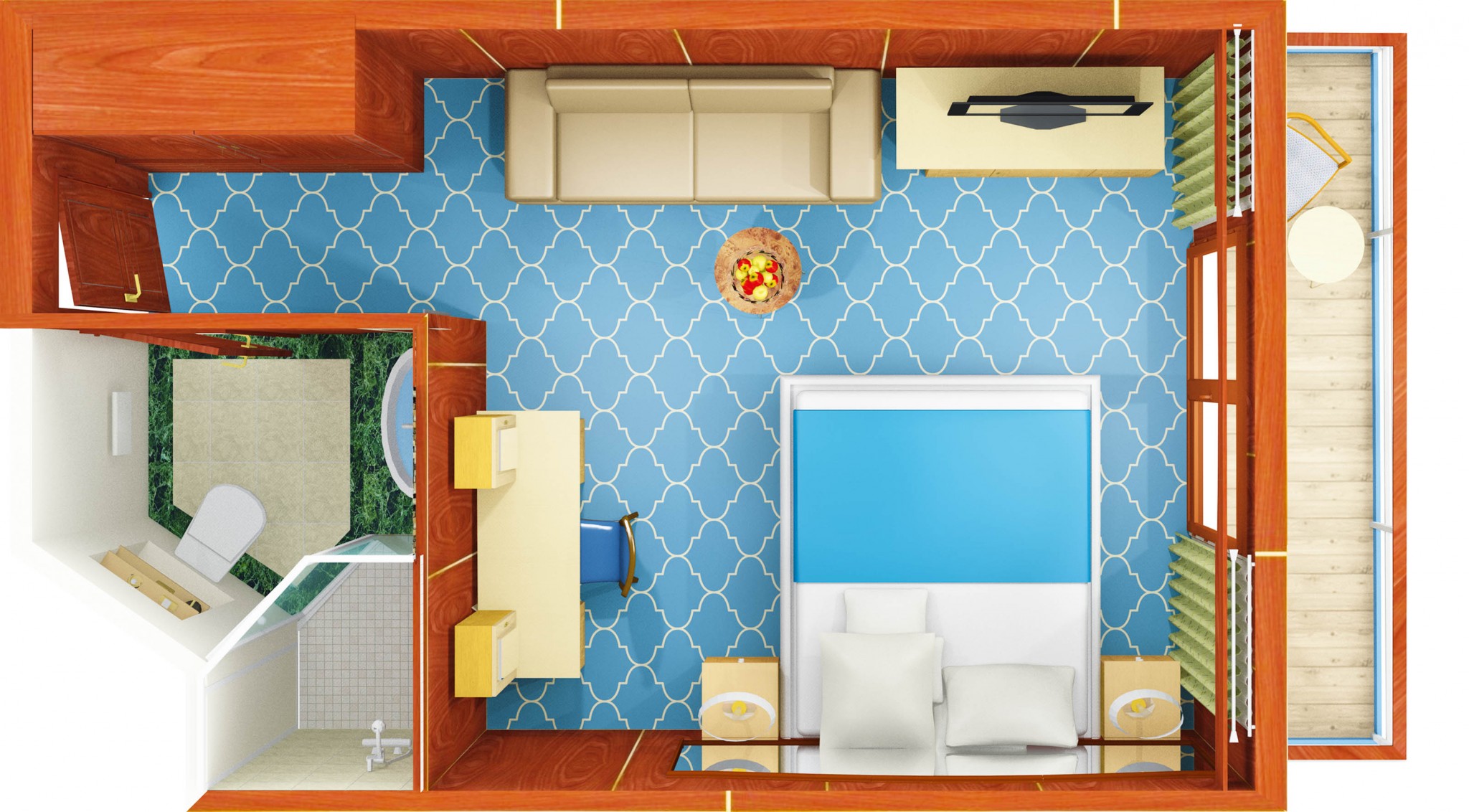 PASSENGERS
SIZE
VIEW
2
24 M² (258 FT²)
PRIVATE BALCONY
The Deluxe Suites with balconies are located on the Sports Deck. Averaging 24 square metres/ 258 square feet means plenty of room. Choose from either two twin beds or a King Size bed. A sliding glass door leads to a private balcony. These suites feature a walk-in closet or wardrobe. Amenities include en suite facilities, in-room safe, refrigerator, satellite telephone access, TV/DVD, individual temperature control, and a hair dryer.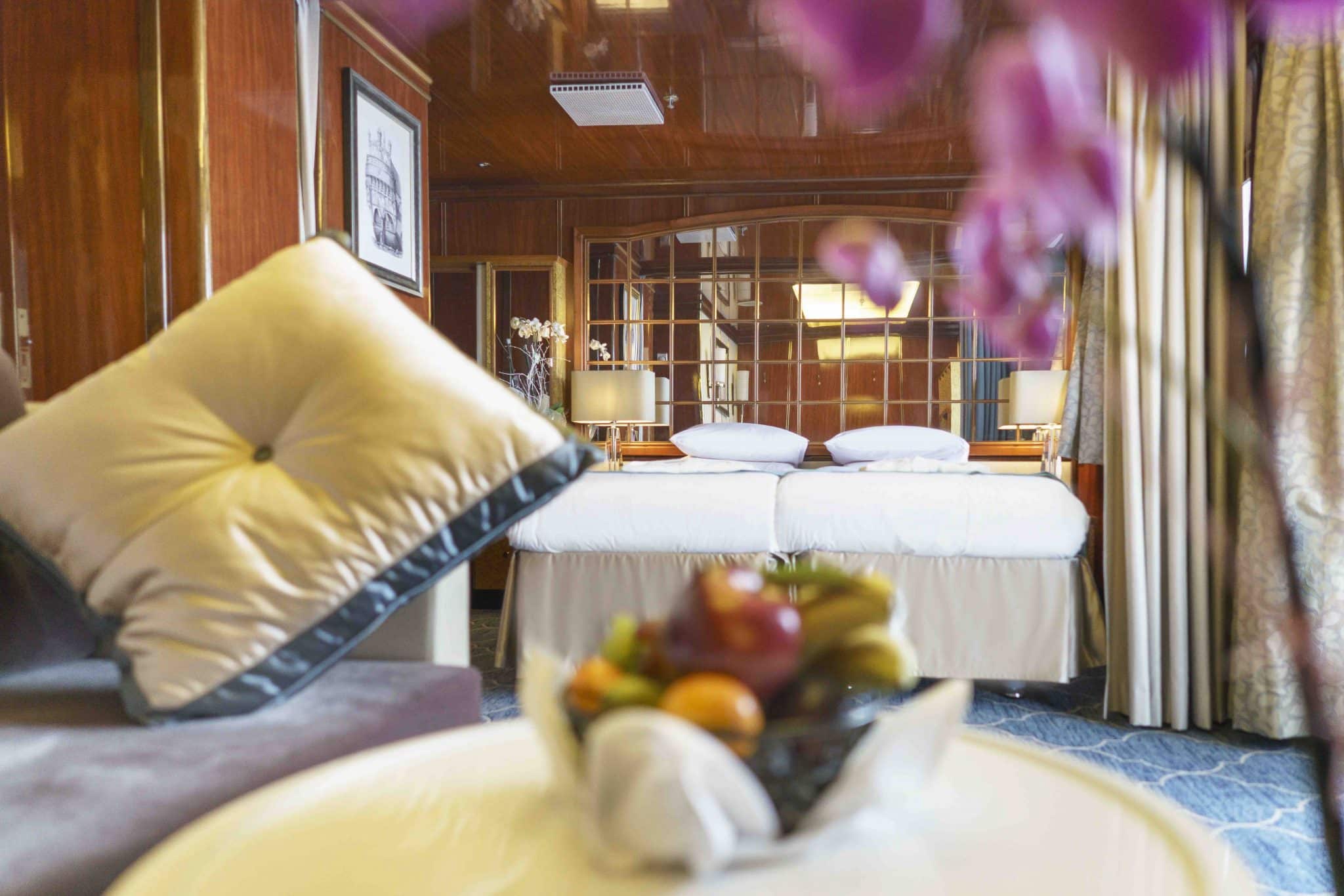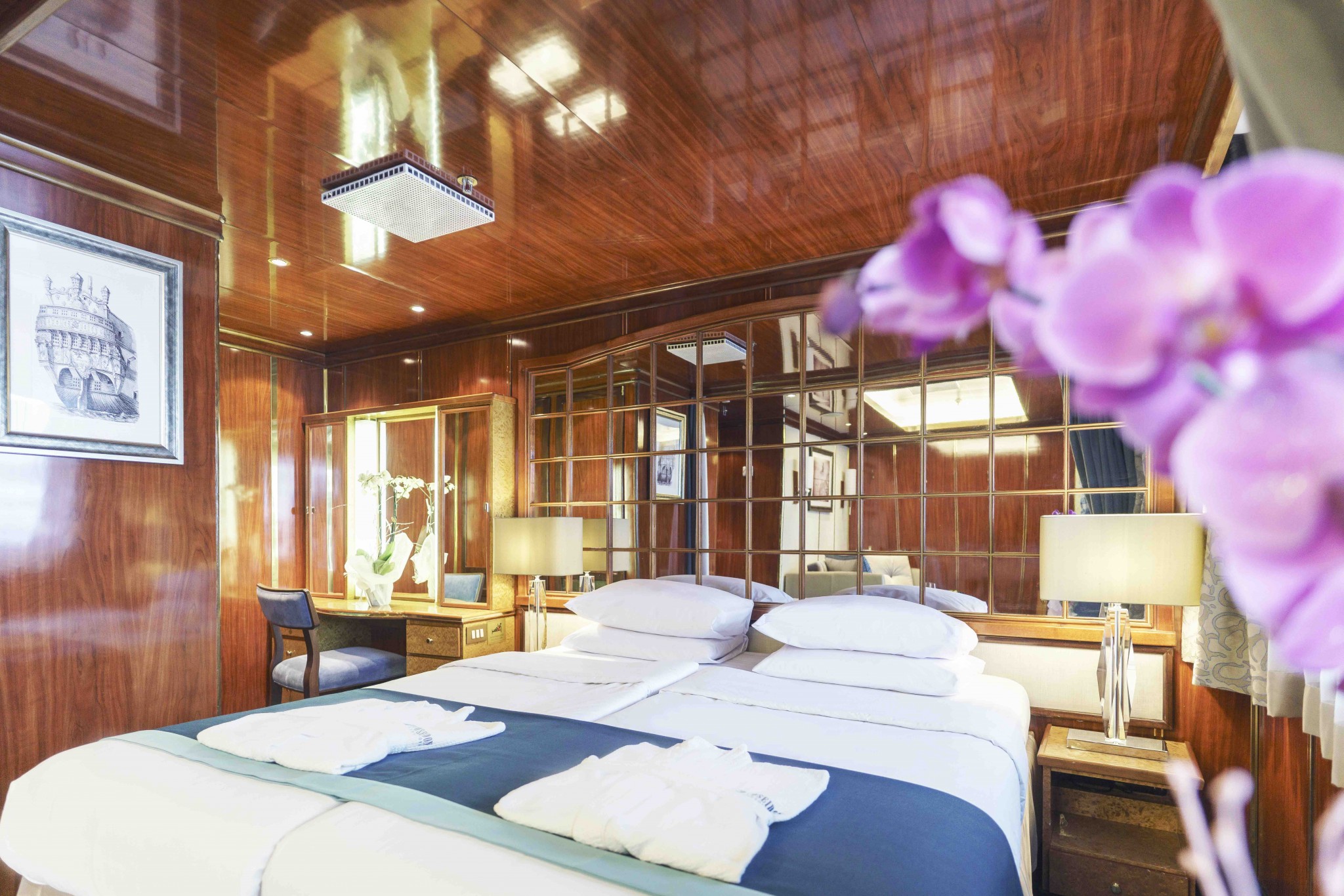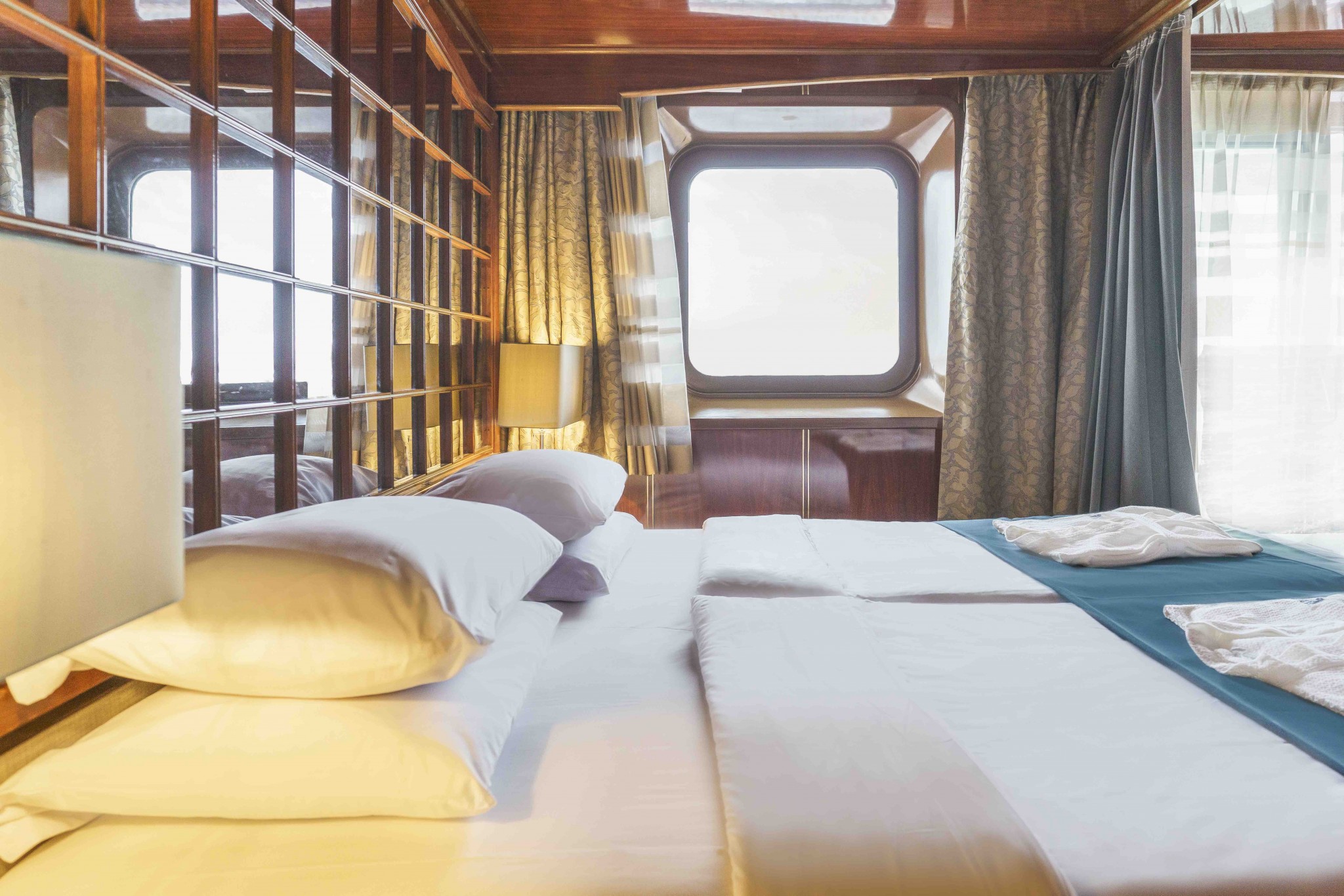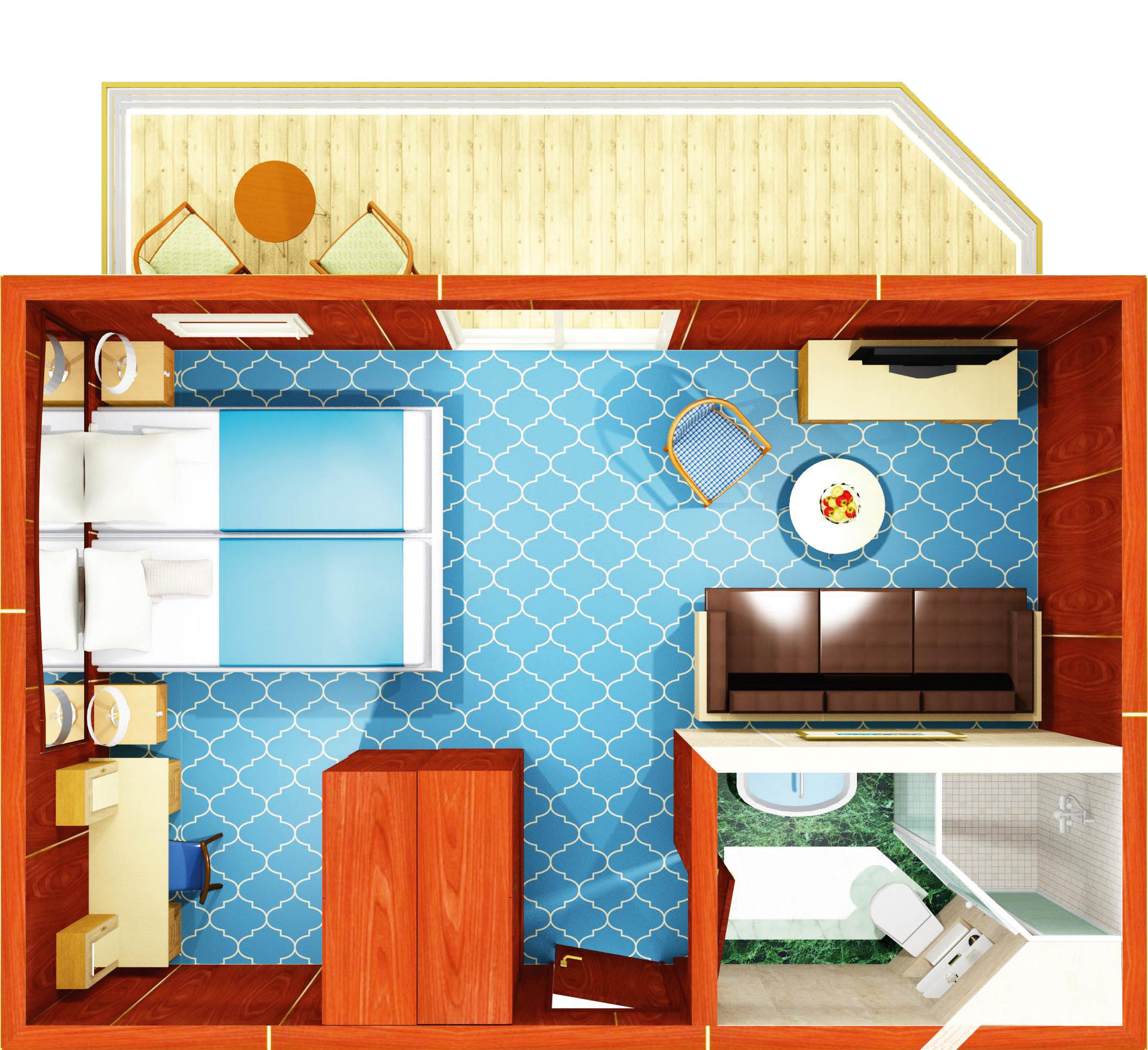 PASSENGERS
SIZE
VIEW
2
 30 M² (323 FT²)
PRIVATE BALCONY
The Premium Suites are located on the Sun Deck. Averaging a generous 30 square metres/ 323 square feet, with two twin beds or a King Size bed. Access the private balcony by a sliding glass door. Amenities include: en suite facilities, lounge area, in-room safe, refrigerator, satellite telephone access, TV/DVD, individual temperature control, and hair dryer.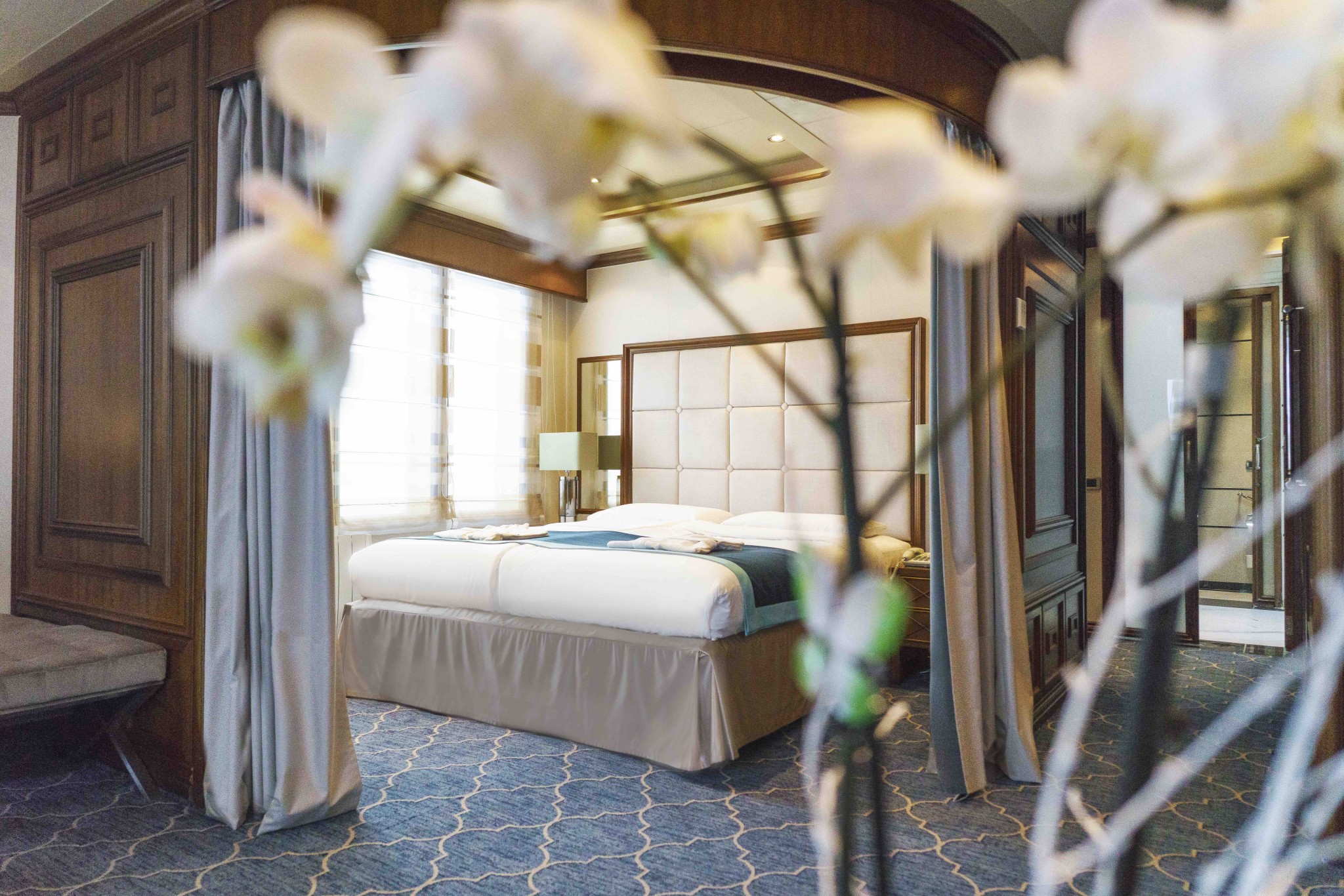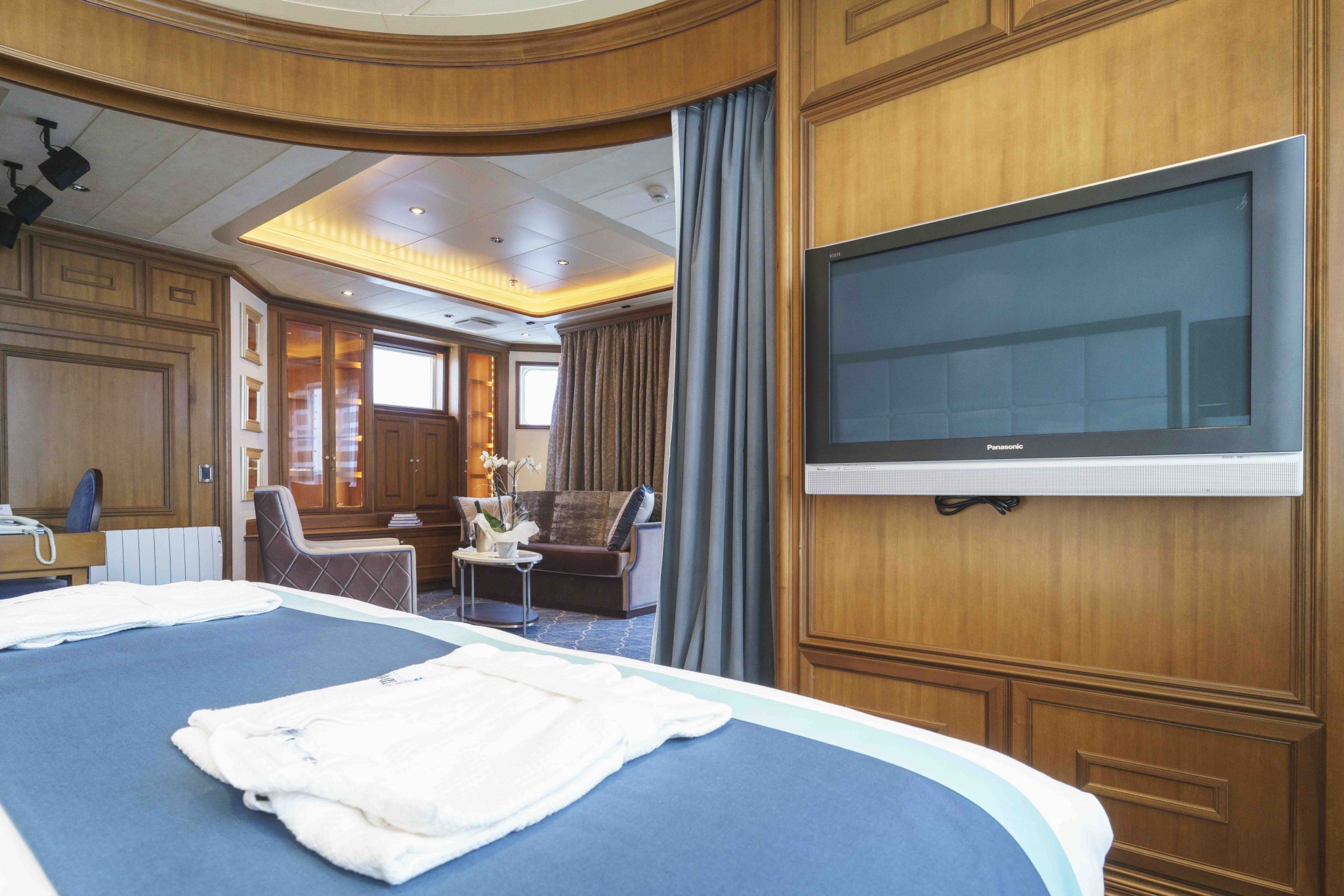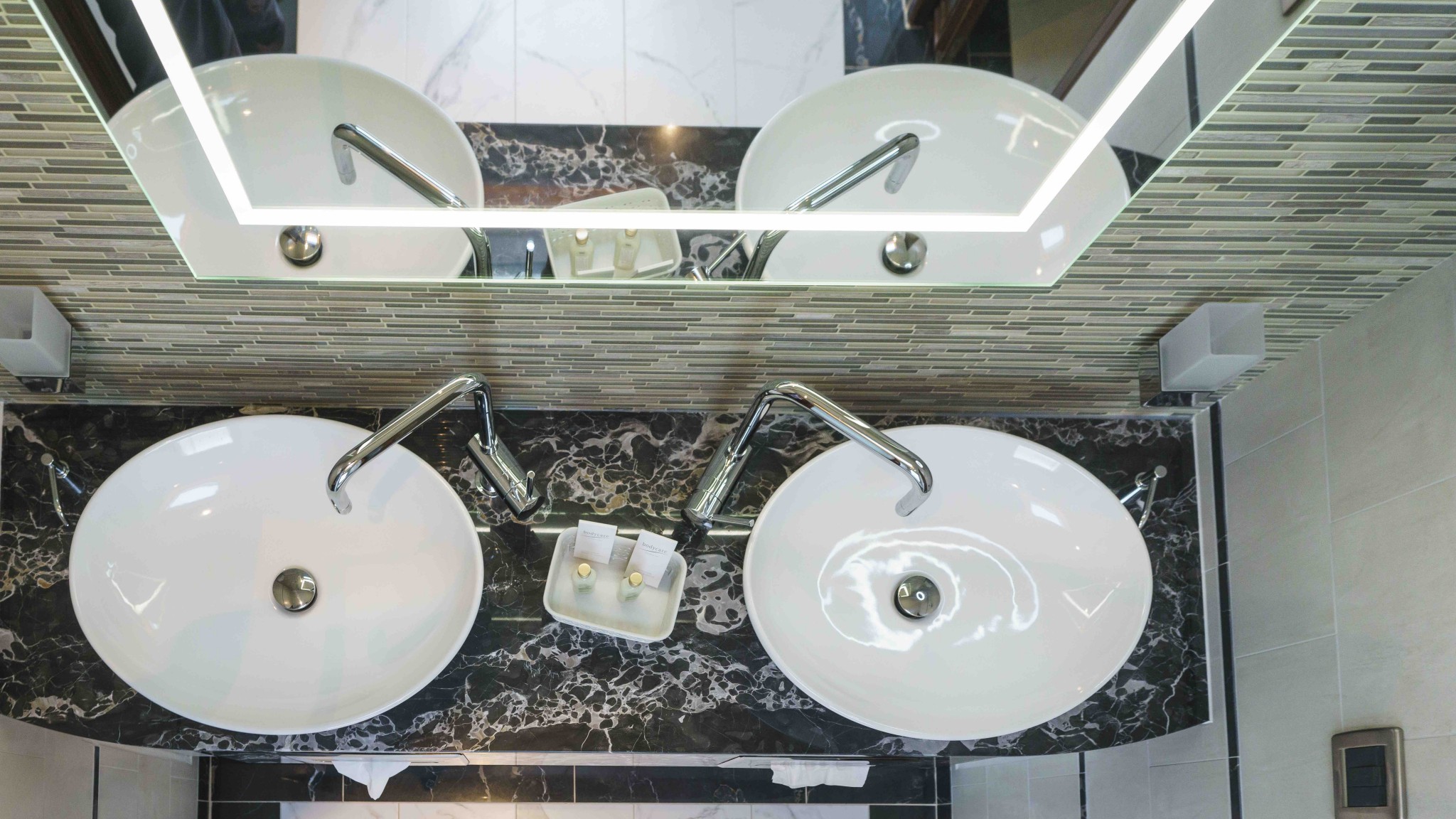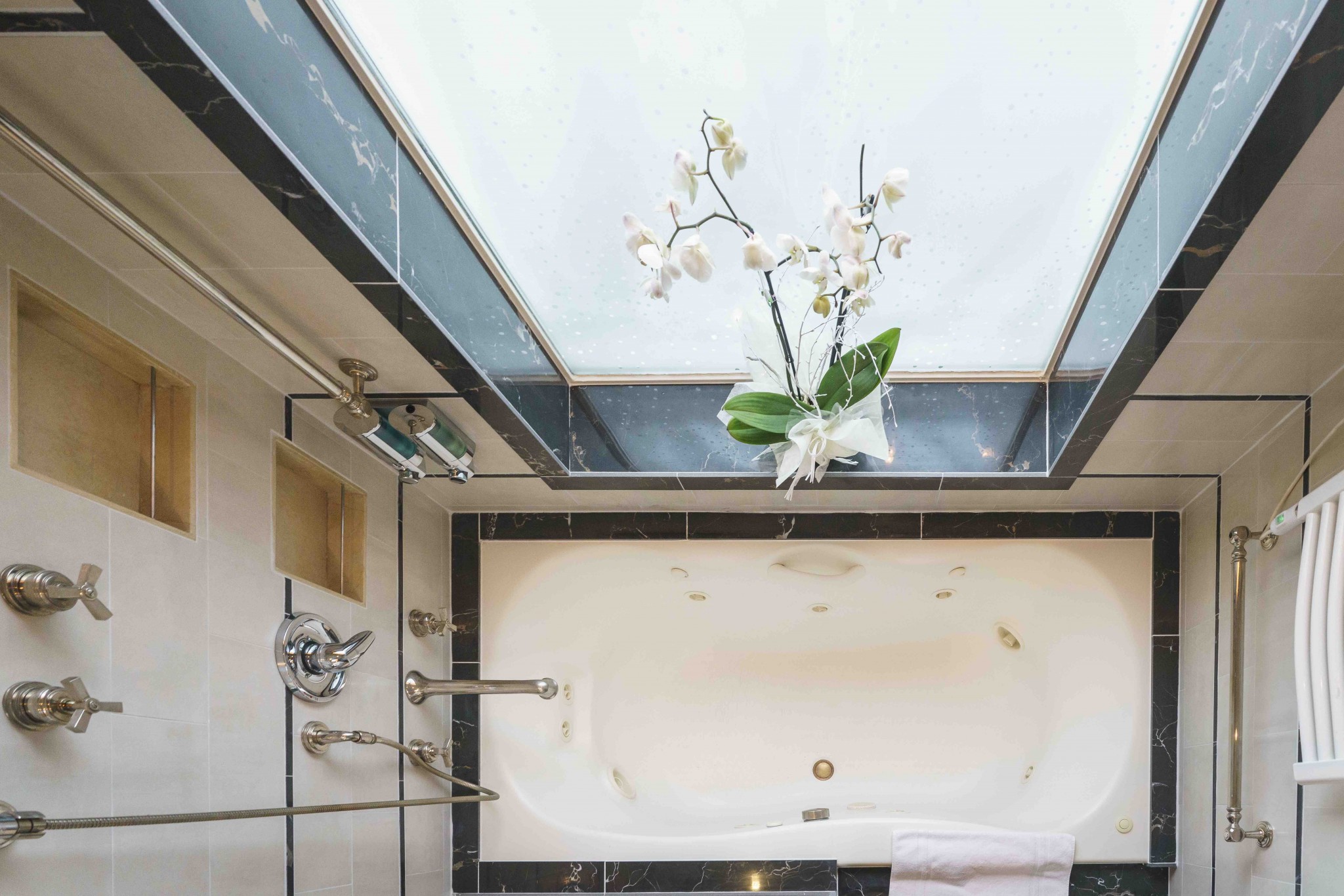 PASSENGERS
SIZE
VIEW
2
43 M² (463 FT²)
PRIVATE DECK
Super-spacious (43 square metres/ 463 square feet) elegant suite on the Sun Deck. Designed forentertaining, the Owner's Suite has a separate living room with game and meeting area. A BOSE stereo system provides background music, or watch videos on the HD plasma TV. Sliding glass doors lead to a private deck. Refresh in the jetted bathtub in en suite facilities. Slumber in the King Size bed. A sofa bed can accommodate a third person.
How to Book
To ensure your place on this exciting adventure, please contact us to reserve a place 02 6355 2022 or , then complete the Adventure Associates Booking Form and return to us with your AUD per person deposit.
| | |
| --- | --- |
| Deposit required per person: | 20% in AU$ per person |
| Balance due: | 90 days prior to departure |
| If booking within 89 days of departure: | Full payment must be made. |
Reservations are established when you receive written confirmation and acceptance of the deposit and Booking Form. Travel insurance is strongly recommended at the time of booking.
Cancellations
Cancellations must be advised in writing to Adventure Associates. Cancellation charges are subject to regulations of airlines, coach and tour operators, hotels and other principals involved. If it is necessary to cancel your arrangements, the following non-refundable charges will apply.
| | |
| --- | --- |
| More than 150 days prior to departure | AU$ 1000 per person |
| Between 149 and 90 days prior to departure | Full loss of deposit per person |
| Between 89 and 76 days prior to departure | 75% of tour cost per person |
| On or within 75 days prior to departure | No Refund |
If the cancellation charge is more than your advance payment you remain liable for the difference. For these and other reasons mentioned above you are strongly recommended to take out Travel Insurance. Once the tour has departed there will be no refund for any unused portions of the trip.