Adventure Associates is thrilled to be chartering the charming 12 passenger vessel M/S Sjøveien. We invite you to join us on one of these unique expeditions to the jewel of the Arctic.

Svalbard is teeming with life for only a few months of the year, during the Arctic summer.  Armed with our "secret weapon" M/S Sjøveien and 24 hours of daylight, just imagine – with a ship like this, we can go to places and see things that bigger ships will never do!  Her compact size, shallow draft and only twelve guests on board, we will have the advantage of great flexibility, the perfect recipe for an amazing adventure.
HIGHLIGHTS

Travel with only 11 other like-minded people
Experience 24 hours of daylight and see the midnight sun
See incredible Arctic wildlife, reindeer, Arctic fox, polar bears, walruses and a variety of other marine mammals
Only 6 guest per Zodiac, makes for comfortable cruising
Take wonderful walks in the tundra and enjoy the breathtaking scenery and geology
Visit some remarkable seabird cliffs
Zodiac cruise near glaciers and admire their sheer ice walls and the many shades of blue
Smell the Arctic flora

DEPARTURE/RETURN LOCATION
Longyearbyen – Spitsbergen (Svalbard)
DEPARTURE DATES

8 July 2023 – 19 July 2023  Fully Booked

18 July 2023 – 29 July 2023  places still available

Special for Solo Traveller's, own cabin at the Twin Share rate on 18 July 2023 departure!

DURATION

12 days/11 nights 

PRICES per person

Prices for 2023 

US$10,490 Twin share lower deck 
US$12,490 Twin plus main deck 
US$13,990  Suites main & upper decks 
US$15,190  single occupancy cabin

GROUP SIZE
12 Guests only
INCLUDED

Voyage aboard M/S Sjøveien as indicated in the itinerary
1 post voyage night in Longyearbyen at Basecamp
Group transfers in Longyearbyen
All meals throughout the voyage including snacks, coffee and tea

All shore excursions and activities throughout the voyage
Programmed lectures and leadership by our experienced expedition staff

All miscellaneous service taxes and port charges
Pre-departure material

All currently applicable service charges and taxes
 

NOT INCLUDED

International air-tickets and taxes
Pre and Post land arrangements

Excess baggage on any flight
Vaccination costs

Passport or Visa fees
Travel Insurance

Personal drinks, laundry
Any other meals or sightseeing not specified in the detailed itinerary
Additional information
Day 1
Longyearbyen
On arrival in Longyearbyen, you will be met and transferred to Basecamp Hotel for 1 night's accommodation with breakfast. A MODERN TRAPPER´S HOTEL In the centre of Longyearbyen lies the home of the modern-day arctic trappers. The hotel is decorated in authentic trappers style down to the very last detail.
Day 2
Longyearbyen
Day in Longyearbyen, the administrative capital of the Svalbard archipelago of which Spitsbergen is the largest island. Please take the opportunity to stroll around this former mining town before embarkation. The Parish Church and Polar Museum are well worth a visit.  In the early evening after boarding we will head out into Isfjorden, escorted by northern fulmar and Atlantic puffins. During the night we sail northwards through Forlandsundet, a narrow body of water between Prins Karls Forland and Spitsbergen. B,D
Day 3-10
Northwest Spitsbergen
In the morning we will make our first excursion in the Northwest corner of Spitsbergen.  We will navigate the narrows of Fuglefjorden and explore the labyrinth of tiny islands set amongst towering peaks and glaciers.  Little auks and Atlantic puffins can often be seen flying around as we cruise these tranquil waters.  Later we sail to Raudfjord on the North coast of West Spitsbergen, a beautiful fjord dominated by spectacular glaciers and favoured by ringed and bearded seals.  The cliffs and shoreline of Raudfjord also support thriving seabird colonies and a surprisingly rich vegetation flourishes in some sheltered places. B,L,D
Woodfjorden – Liefdefjorden
Over night we sail into Woodfjorden and towards the mouth of Liefdefjorden to explore the islands of Andøyane.  Many common eiders, pink-footed and barnacle geese nest here along with the rare King eider.  We hope to sail into Liefdefjorden, cruising along the 5km long face of the impressive Monaco Glacier.  The waters of the glacier front are a favourite feeding spot for thousands of kittiwakes, northern fulmar, ivory gulls, Arctic terns and on previous voyages we have seen Polar bears in this area. This is a wonderful setting for photography.
Alkefjellet – Lomfjord
Today we may be in the Hinlopen Strait, keeping an ever-watchful eye out for whales, seals, walrus and Polar bears. We plan to cruise the towering dolerite bird cliffs of Alkefjellet, home to hundreds of thousands of Brünnich's guillemots and a place that provides a free meal of eggs to cunning Arctic fox families!  On the western side of Hinlopen Strait, we will attempt a landing in Lomfjorden. This is a good place to stretch the legs and explore the beautiful surroundings. We might see reindeer, Arctic fox and Ptarmigan and walk across an exquisite tundra garden of many floral species, including varieties of saxifrages, Arctic bell-heather, moss campions and hairy lousewort.
Sjuøyane – Phippsøya
In the morning we sail via Lagøya, a known haul-out place for walrus. Encountering a walrus haul-out is a moment you won't forget! These lumbering giants of the Arctic create a chaotic scene, as each walrus vies for the best spot on the beach.  Later we will reach our northernmost point at Phippsøya, in the Seven Islands (Sjuøyane) north of Nordaustlandet.  Here we will be above 81 degrees north, just 540 miles from the geographic North Pole.  Polar bears inhabit this region, along with the walrus.  We may cruise through the pack-ice for several hours hoping to spot a Polar bear and other wildlife.
Nordaustlandet
Depending on the ice situation, we will try to head south-east to explore one of the deep fjords at the top of Nordaustlandet.  It is the second largest island in the archipelago and is covered by the world's third largest ice sheet.  This polar desert is an eroded landscape, carved by severe frost and glacial activity over several ice ages.  It is a geologists paradise rich in fossils.
Pack-Ice cruising
Retracing our route westwards, we plan to sail through and along the pack-ice edge, always on the watch for the mighty Polar bear, seals and other wildlife.  Keep an eye out for the rare Greenland (bowhead) whale.
Day 11
West Spitsbergen
We sail into St. Johns Fjord, or head further south to the mouth of Isfjorden and land at Alkhornet.   Here there are seabirds nesting on cliffs with Arctic foxes searching the base for fallen eggs and chicks.  Meanwhile we hope to see Svalbard reindeer grazing on the relatively luxuriant vegetation. B,L,D
Day 12
Longyearbyen
We arrive in Longyearbyen, disembark, join our flights south to Oslo and thence home. B
Gary Miller
Expedition Leader & Naturalist

Gary's love of the polar regions began over 45 years ago when he first travelled to the Arctic to study polar bears in Churchill, Manitoba for his MA in Zoology. He also studied bowhead whales and grey whales in Alaska and Mexico and then desert bighorn sheep in Arizona for a PhD in Ecology. His life moved south when in 1986 he began research on Antarctic penguins and skuas. Starting with 6 summers of research on Ross Island, he's visited Antarctica in 33 of the past 37 years–including 10 summers and a winter at research stations studying South Polar Skuas and Adelie, Gentoo, Chinstrap, Royal, King and Emperor Penguins. For the past 30 years Gary has split his time between research and ship-based tours where he enjoys sharing his knowledge, enthusiasm and experience with passengers from all over the world.
Returning to the Arctic in the early 1990s, Gary has led tours to polar bear watching in Canada and 20 seasons in Svalbard and East Greenland exploring the high arctic. His love of the wildlife, the landscape and the environment are apparent in his enthusiasm for and knowledge of the Arctic. Gary is one of the most experienced Expedition Leaders/naturalist/guides working in the Arctic today.
Sue Werner
Naturalist & Guide
Sue graduated as a veterinary nurse before embarking on a more adventurous life as a professional outdoor guide mainly specialising in the Polar regions. Sue first ventured to the Arctic in 1997 on the Kapitan Klebnikov, completing the Northwest passage, High Canadian Arctic and was part of the first-ever circumnavigation of Baffin Island. Since then Sue has returned to the high Arctic latitudes every year and has spent a winter working in Svalbard as a dog handler and dog sled guide. Sue has a great passion for the Polar regions with a keen interest in the flora and fauna of the High Arctic. Sue will introduce you to some of the best places the Arctic has to offer. In January, 2015, Sue purchased Adventure Associates and continues to plan even more exciting journeys to remote destinations.
M/S Sjøveien
M/S Sjøveien (meaning the Seaway) was built in Bergen in 1964 for the Norwegian Government and she worked for them in various capacities. From 1979 until 1995 she was used as a training ship for mariners. Since 1995 she has been in private ownership and during the many years since, worked for the Norwegian coast guard. After being a hotel ship for the past few years, she has now been refurbished into a classic and exclusive passenger ship and started her career in Svalbard the summer of 2017.
She is a true beauty with wooden decks and vintage details. There is a lot of deck space on the main deck and there is also an excellent area on top of the bridge, from where you have wonderful views of the magical Svalbard scenery.
To accommodate a maximum of 12 passengers there are eight outside cabins, all with private facilities. On the lower deck there are four twin cabins with portholes. On the main deck there are two larger twin cabins with windows and one large superior cabin with a double bed and windows. The eighth cabin is located on the upper deck and is a large superior cabin with windows. The dining area on the main deck is where you are served breakfast, lunch and dinner. Here is also a lounge area where you can relax with a cup of tea or coffee and listen to interesting talks by the guides. There is an international crew on board who speak English and the bridge is open for visitors.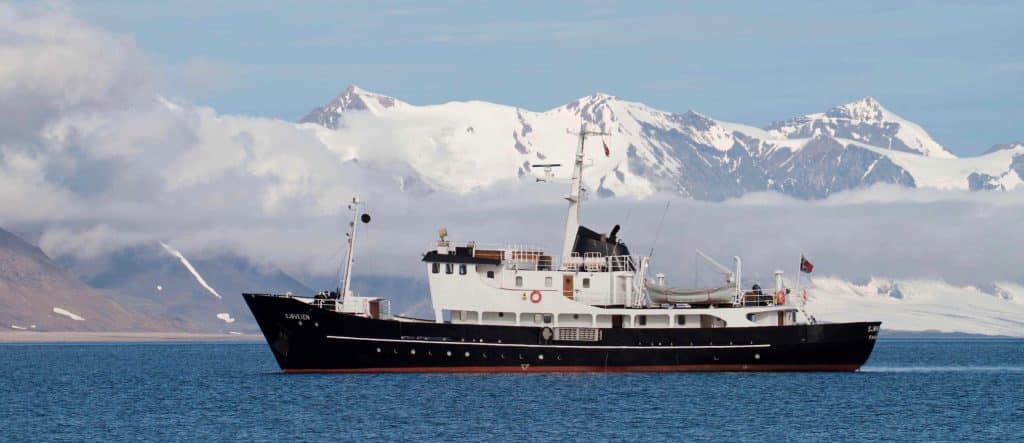 Deck Plan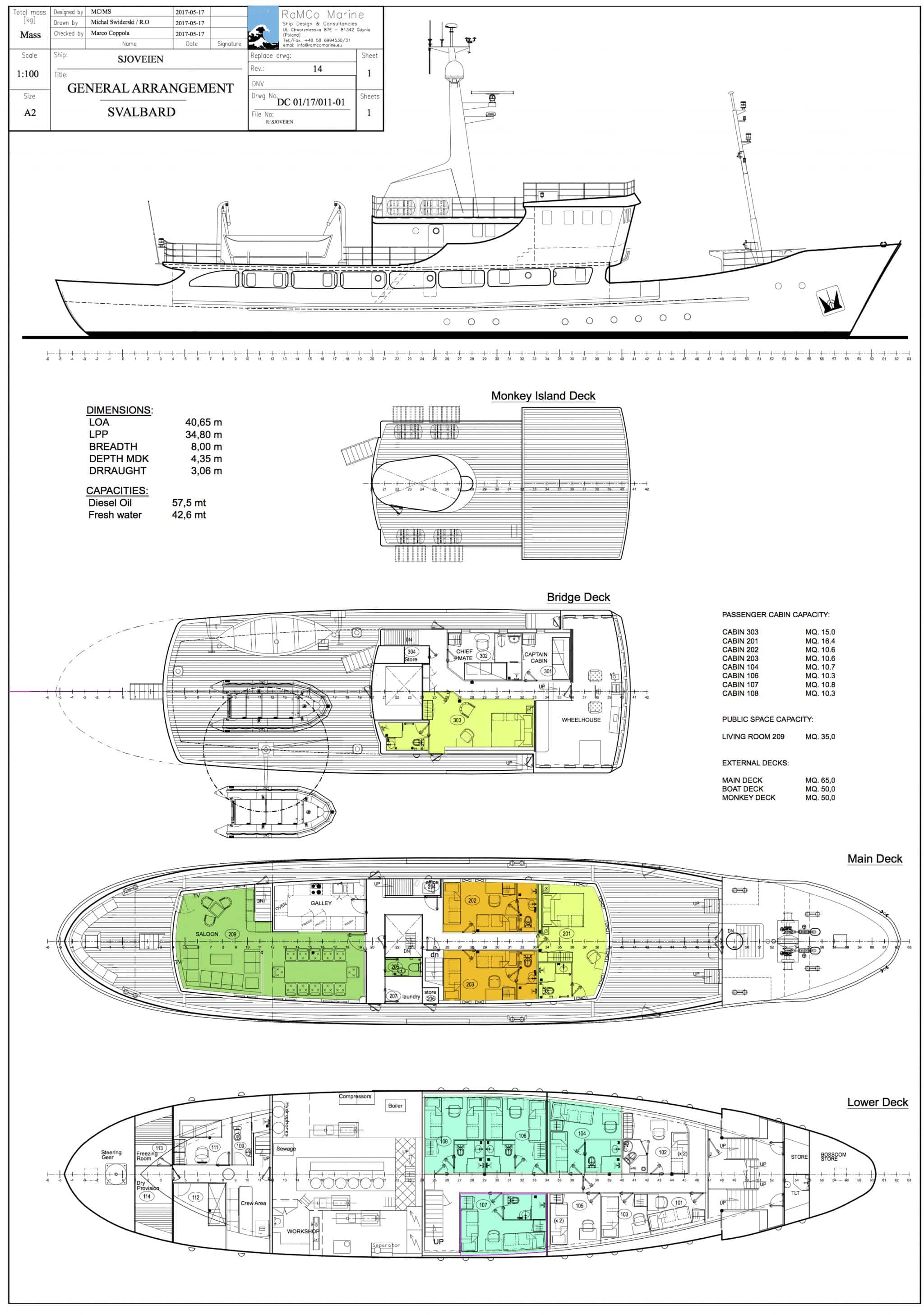 Cabins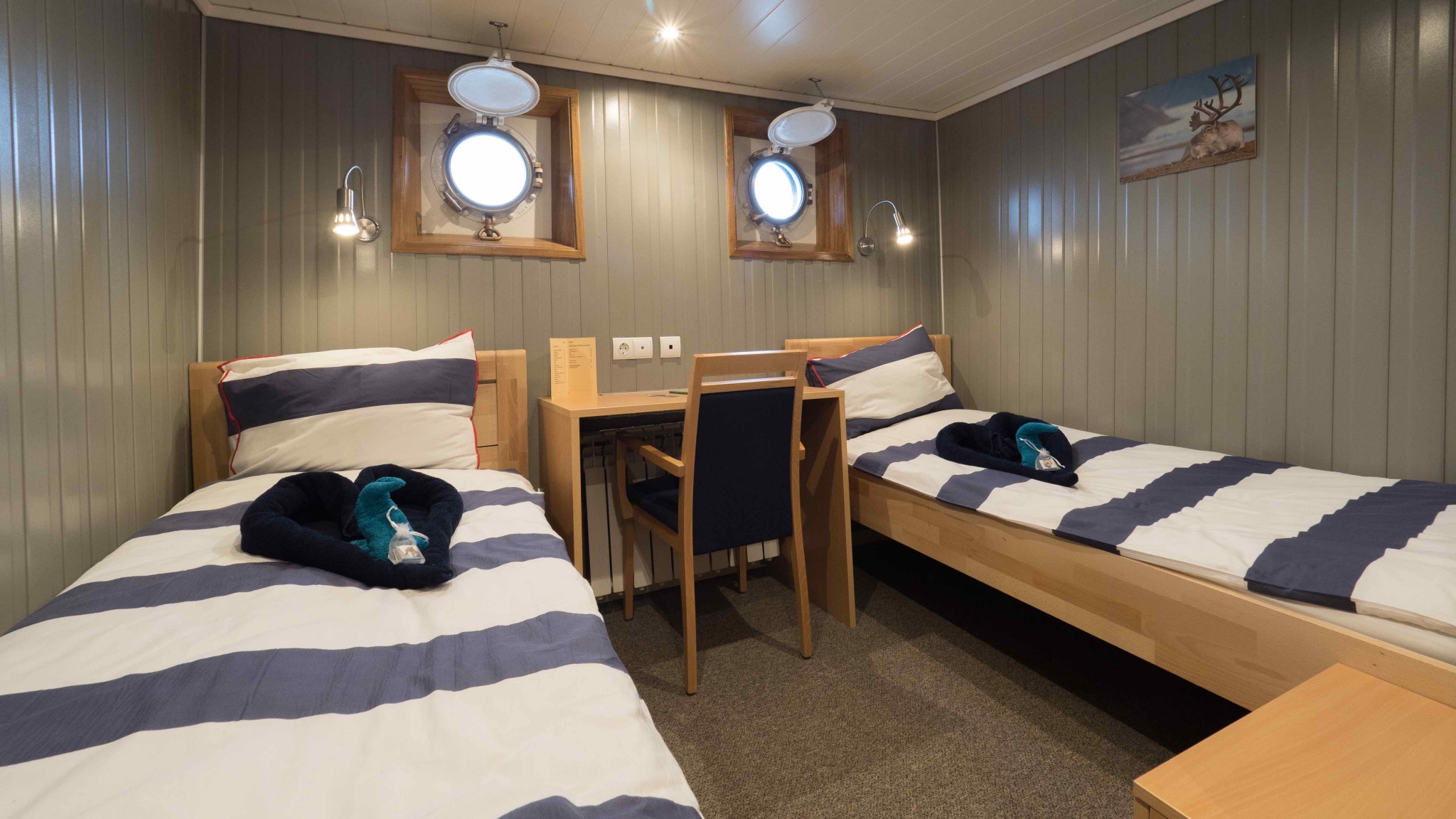 Sjîveien-TWIN-1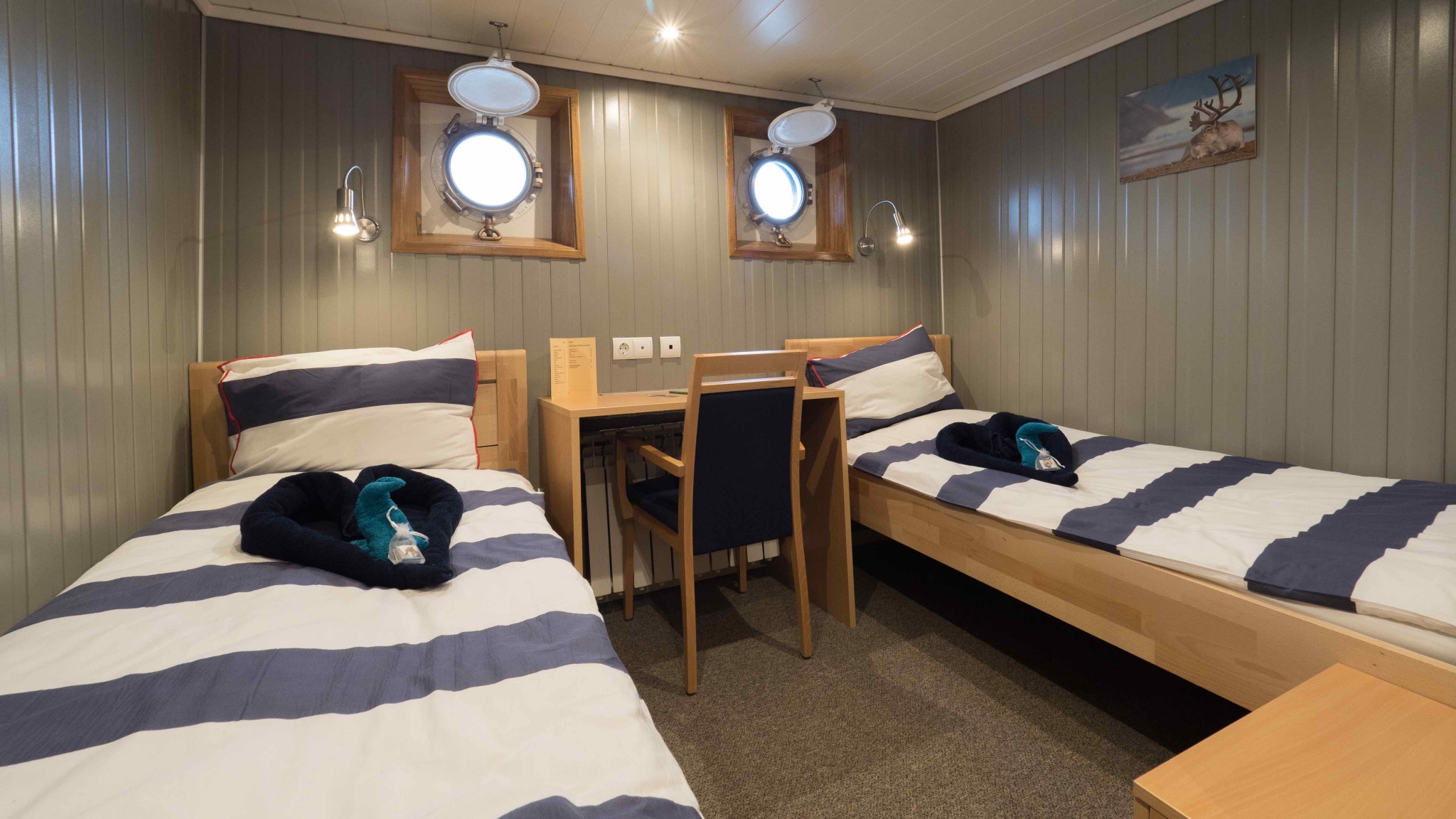 Sjîveien-TWIN-2
Sjîveien-TWIN-3
PASSENGERS
SIZE
VIEW
2
10.5 M² (113FT²)
PORTHOLES
Averaging 10.5 square metres/113 square feet, these Twin cabins are located on the Lower Deck and have two cosy twin beds, a desk and chair plus wardrobe and private ensuite facilities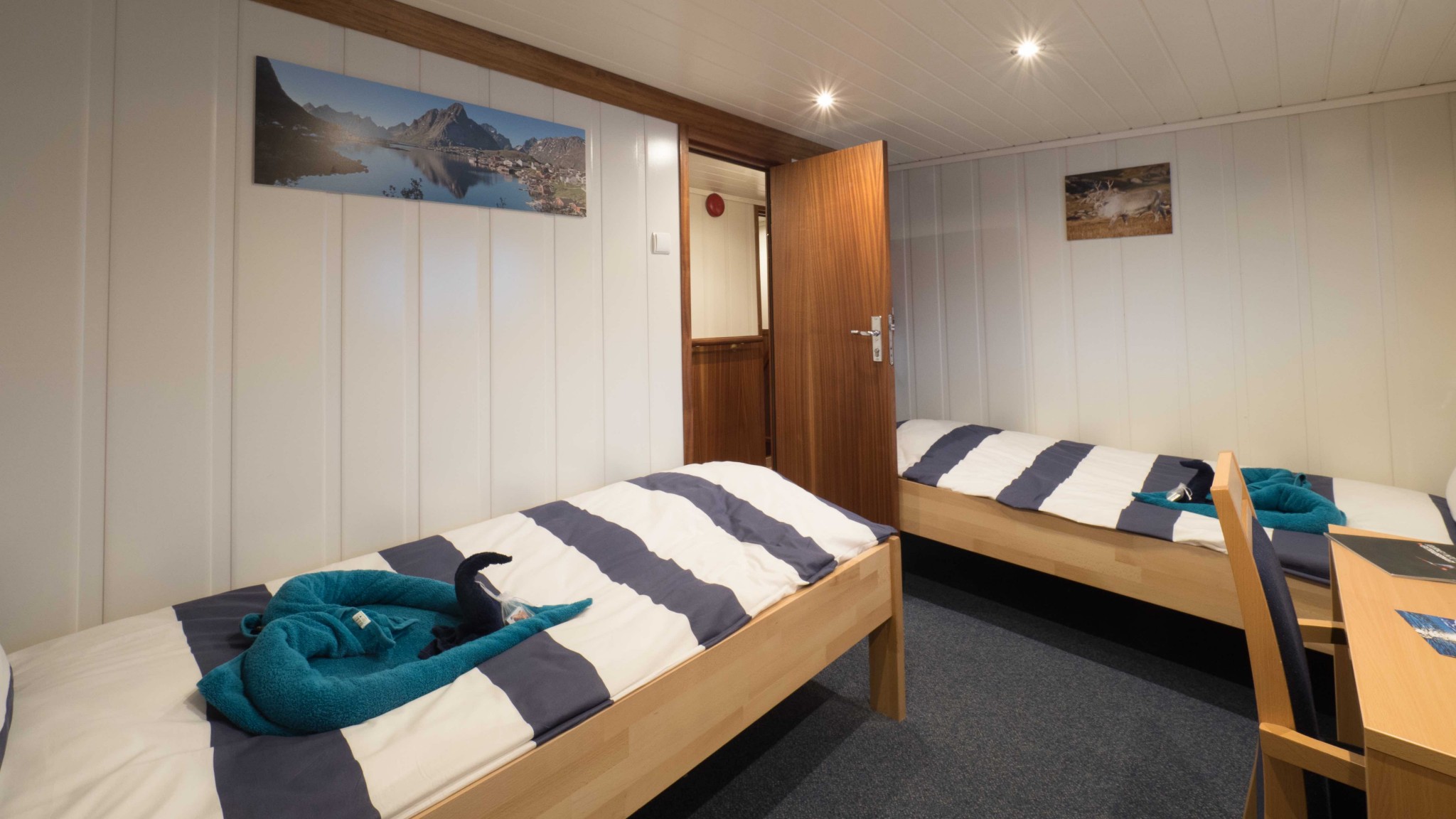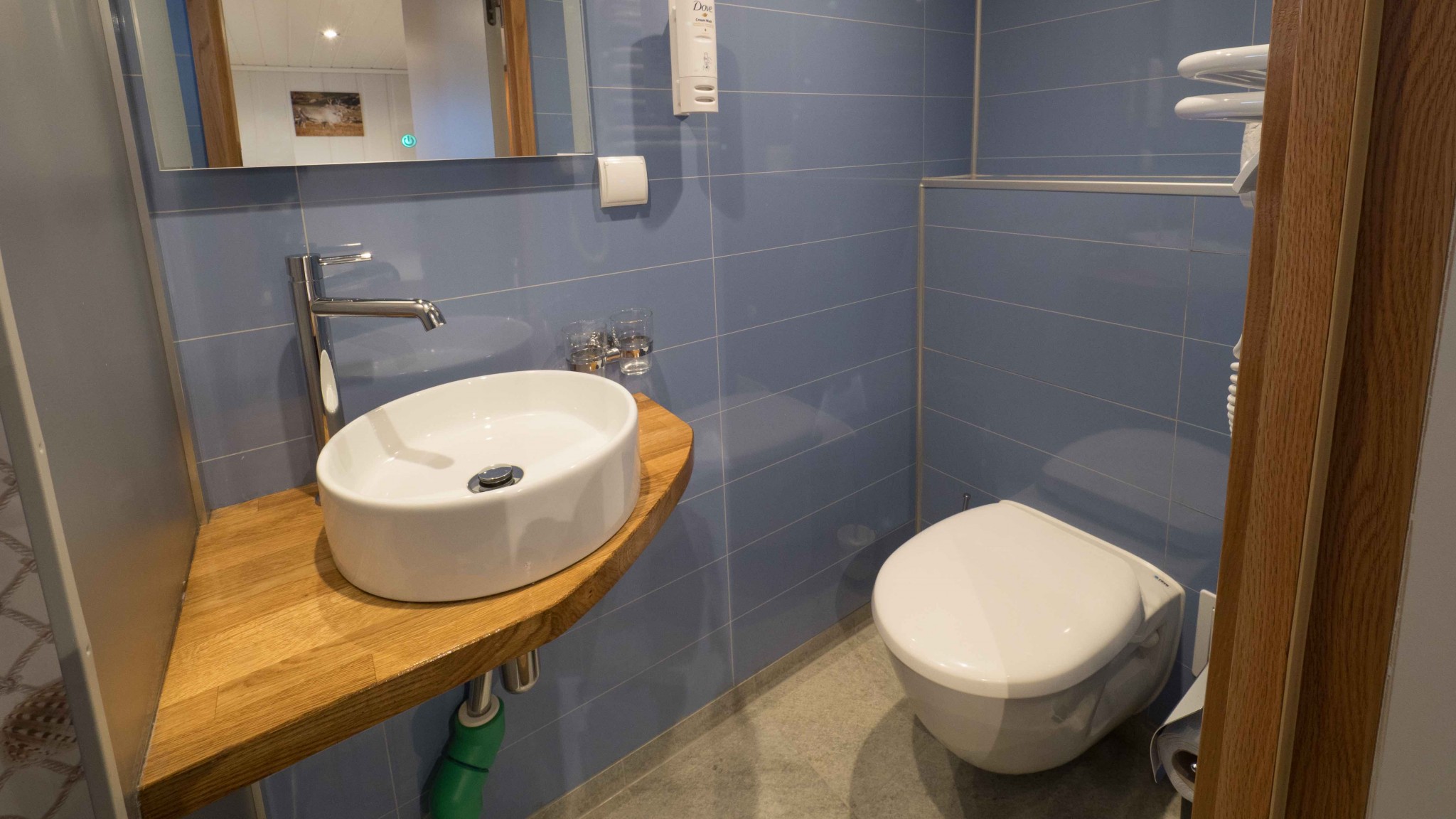 Sjîveien-TWIN PLUS 1
Sjîveien-TWIN PLUS 2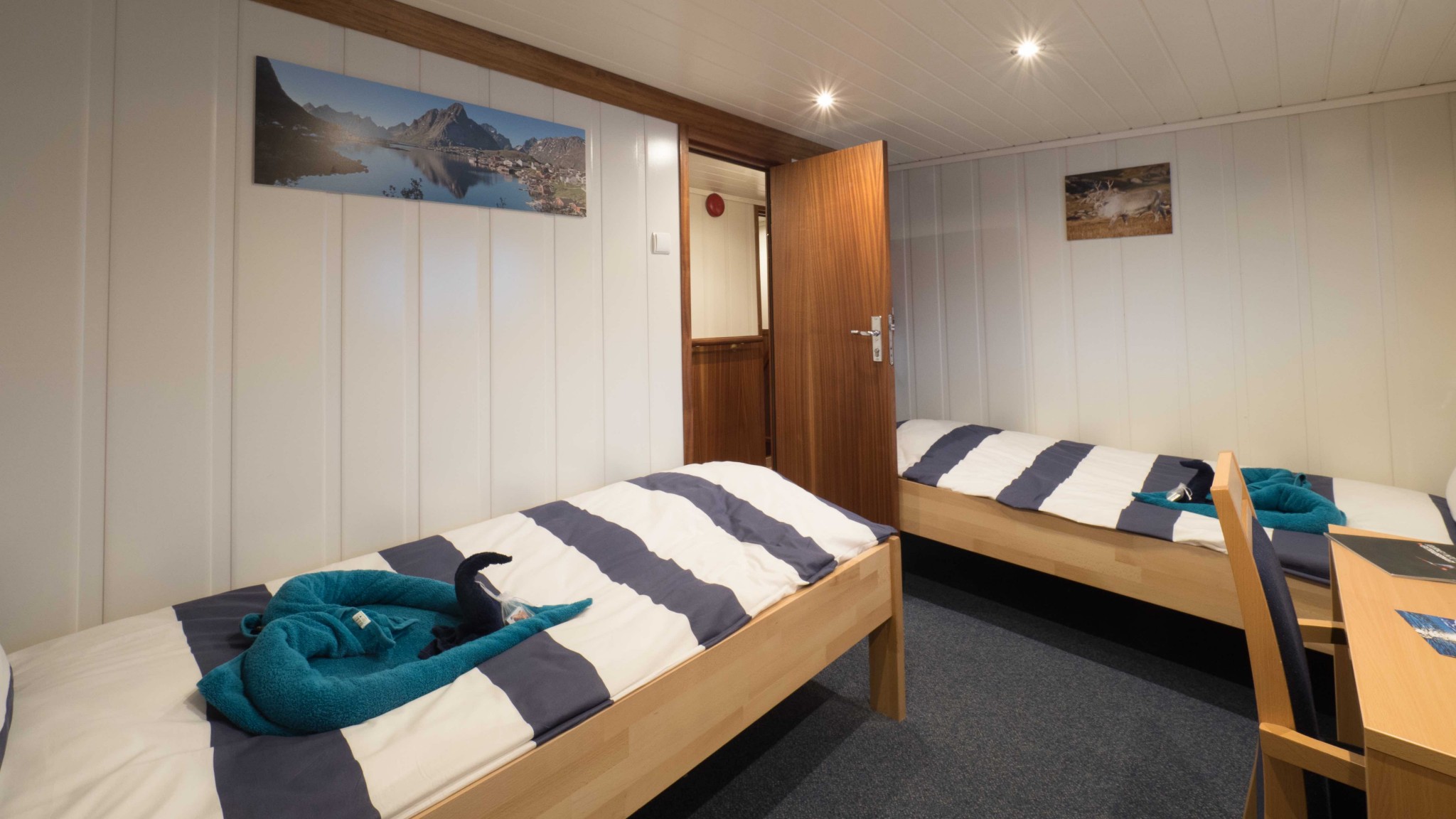 Sjîveien-TWIN PLUS 3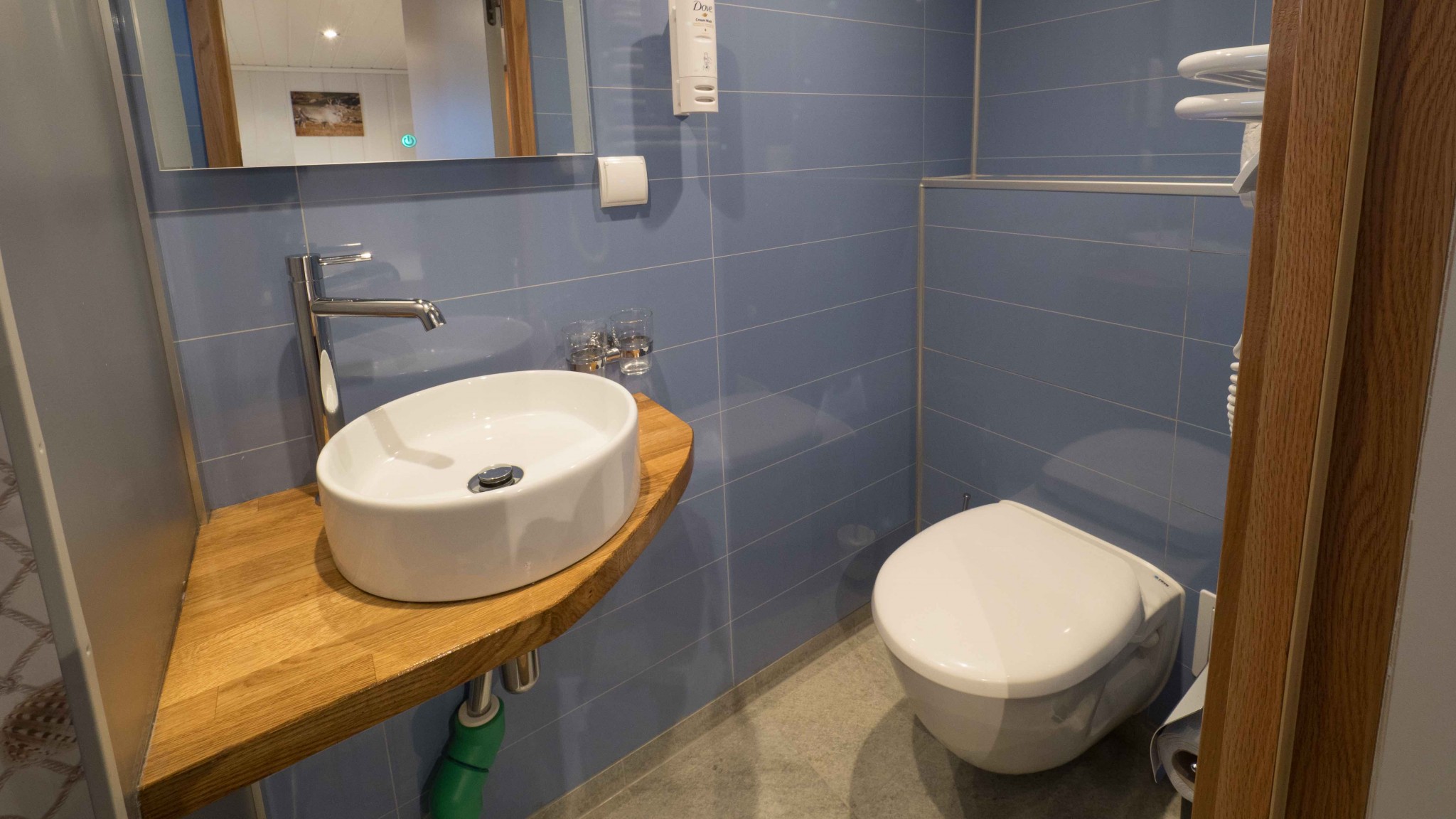 PASSENGERS
SIZE
VIEW
2
11.6 M² (148 FT²)
WINDOWS
Averaging 11.6 square metres/148 square feet, these Twin Plus cabins are located on the Main Deck and have two twin beds, a desk and chair plus wardrobe and private ensuite facilities.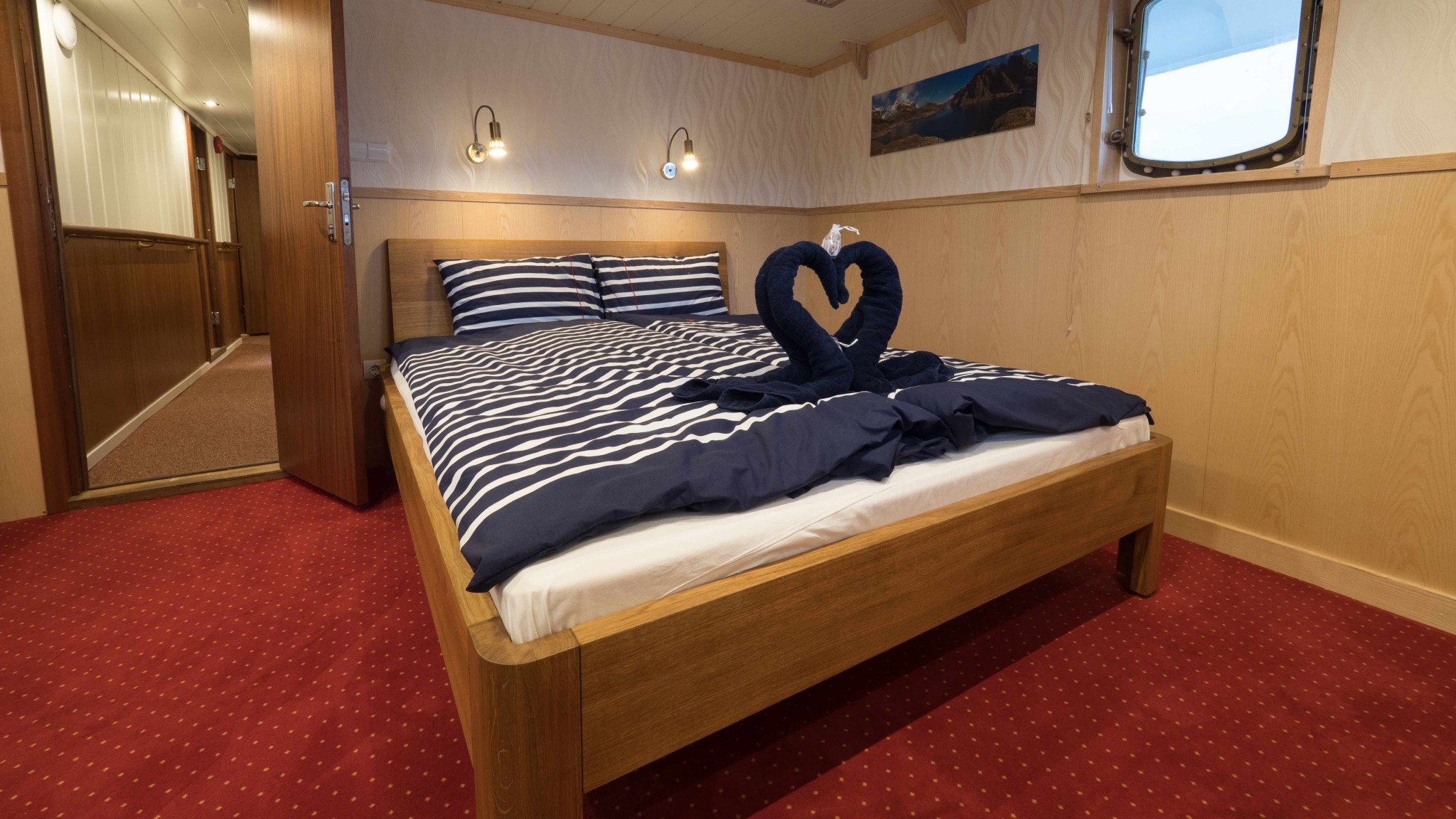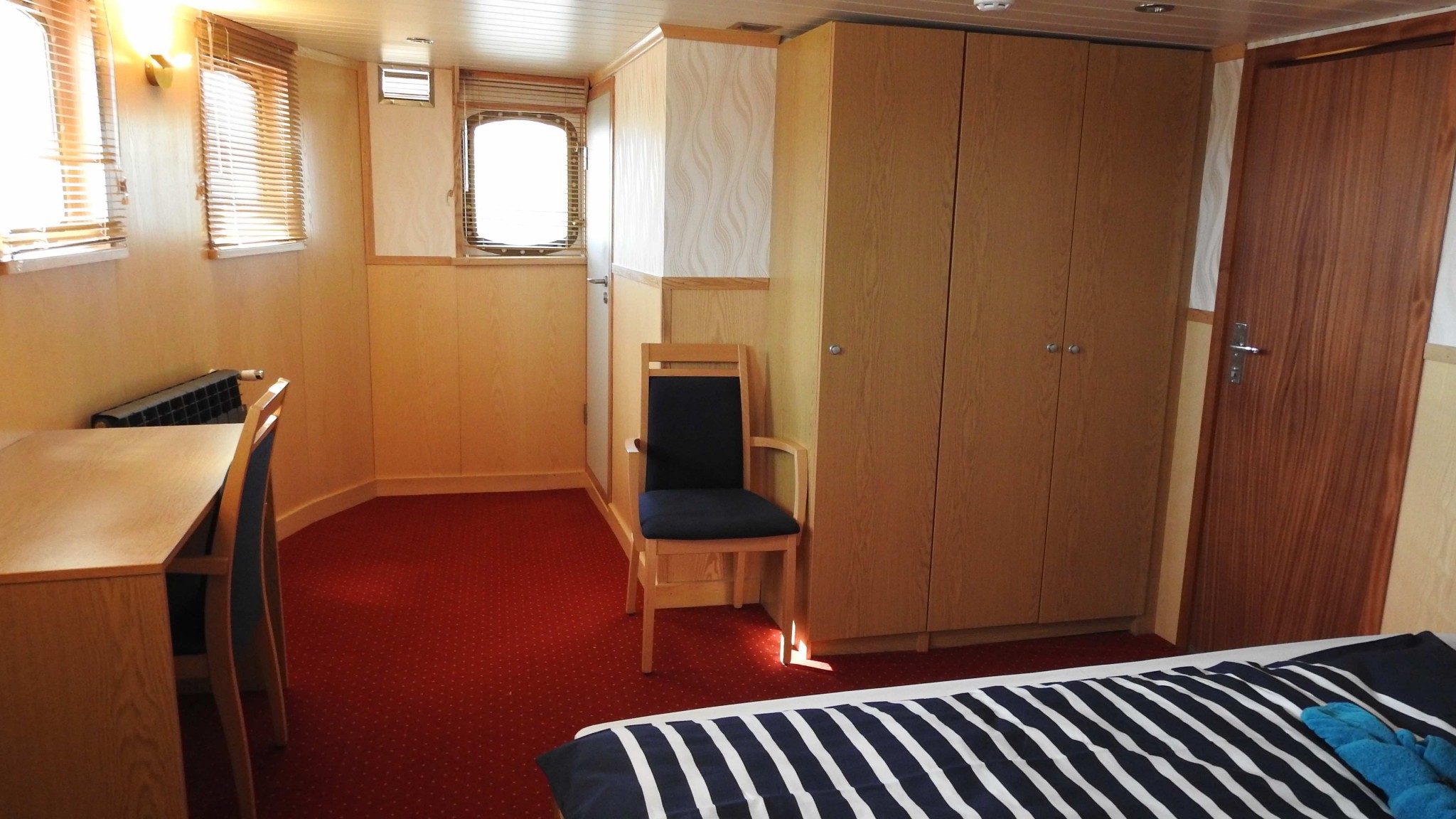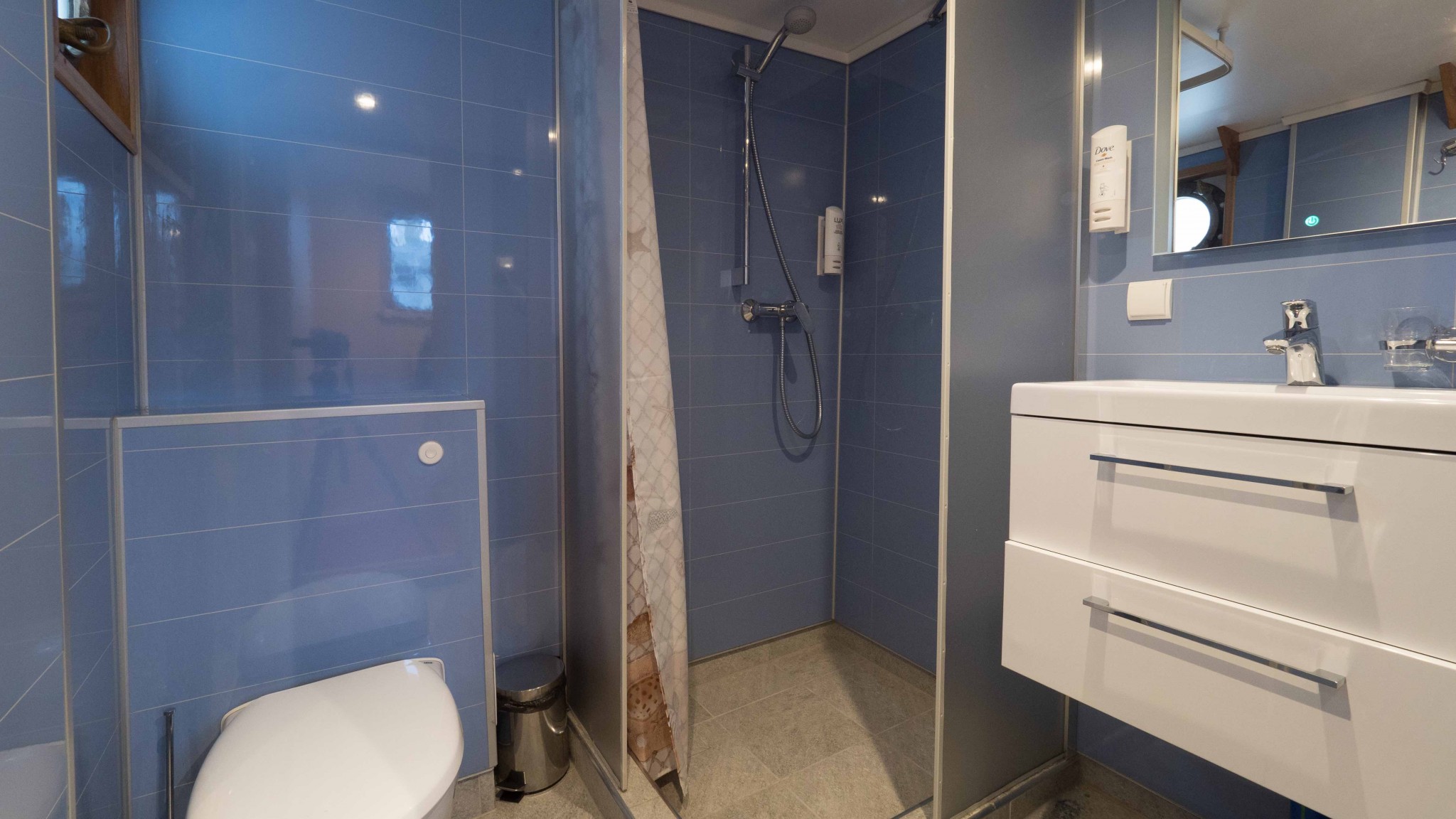 Sjîveien-FORWARD SUITE 1jpg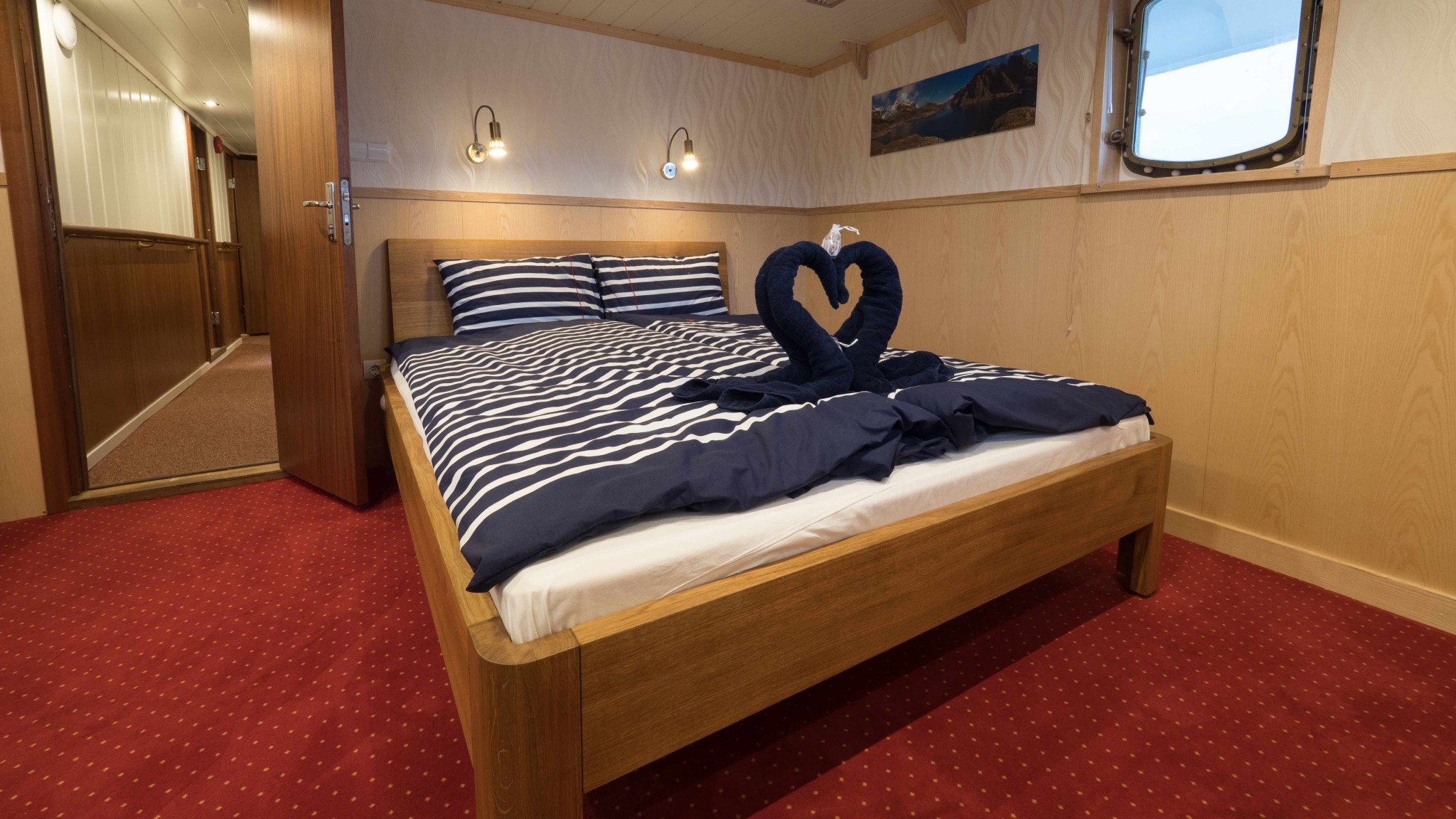 Sjîveien-FORWARD SUITE 2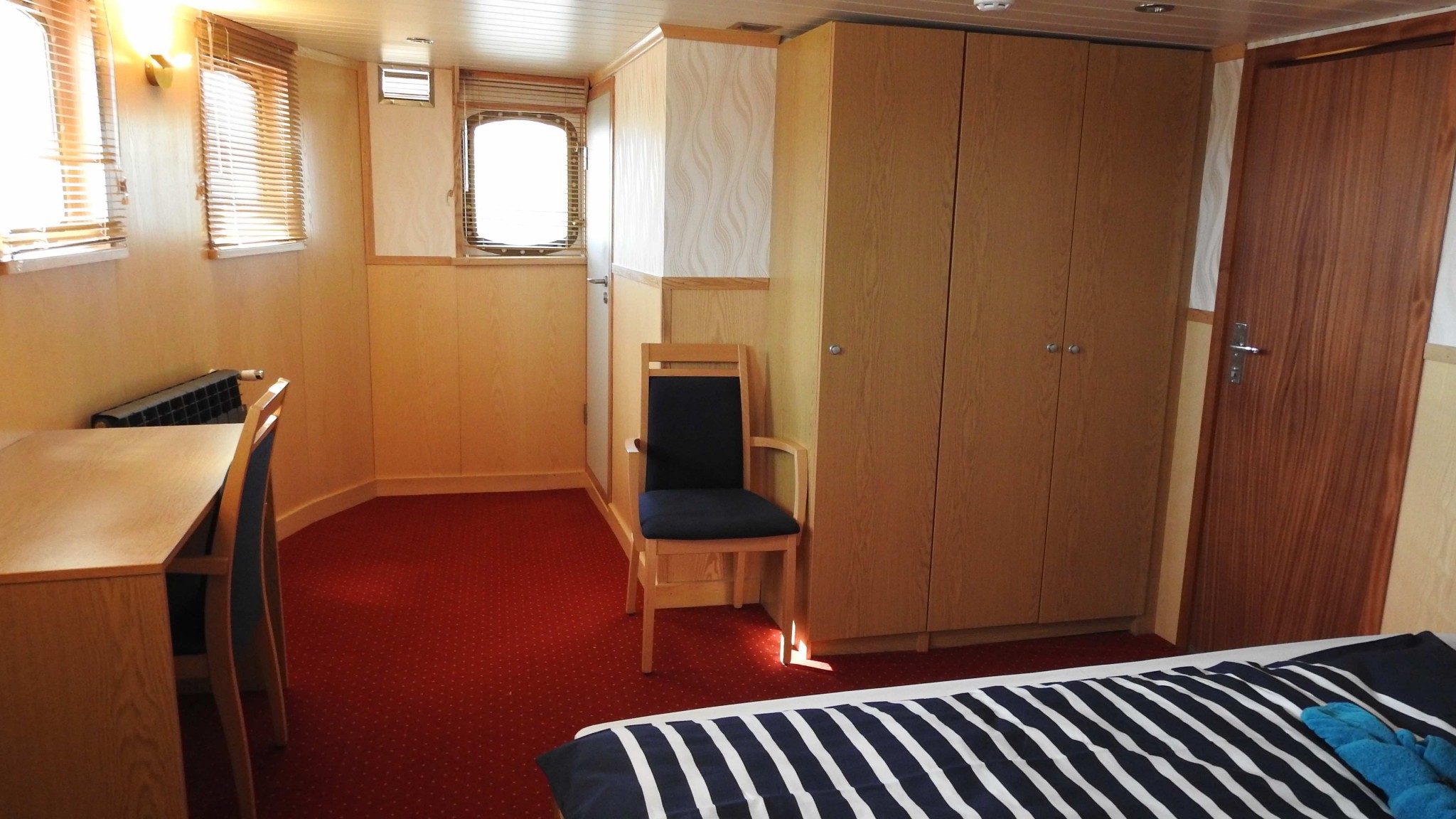 Sjîveien-FORWARD SUITE 3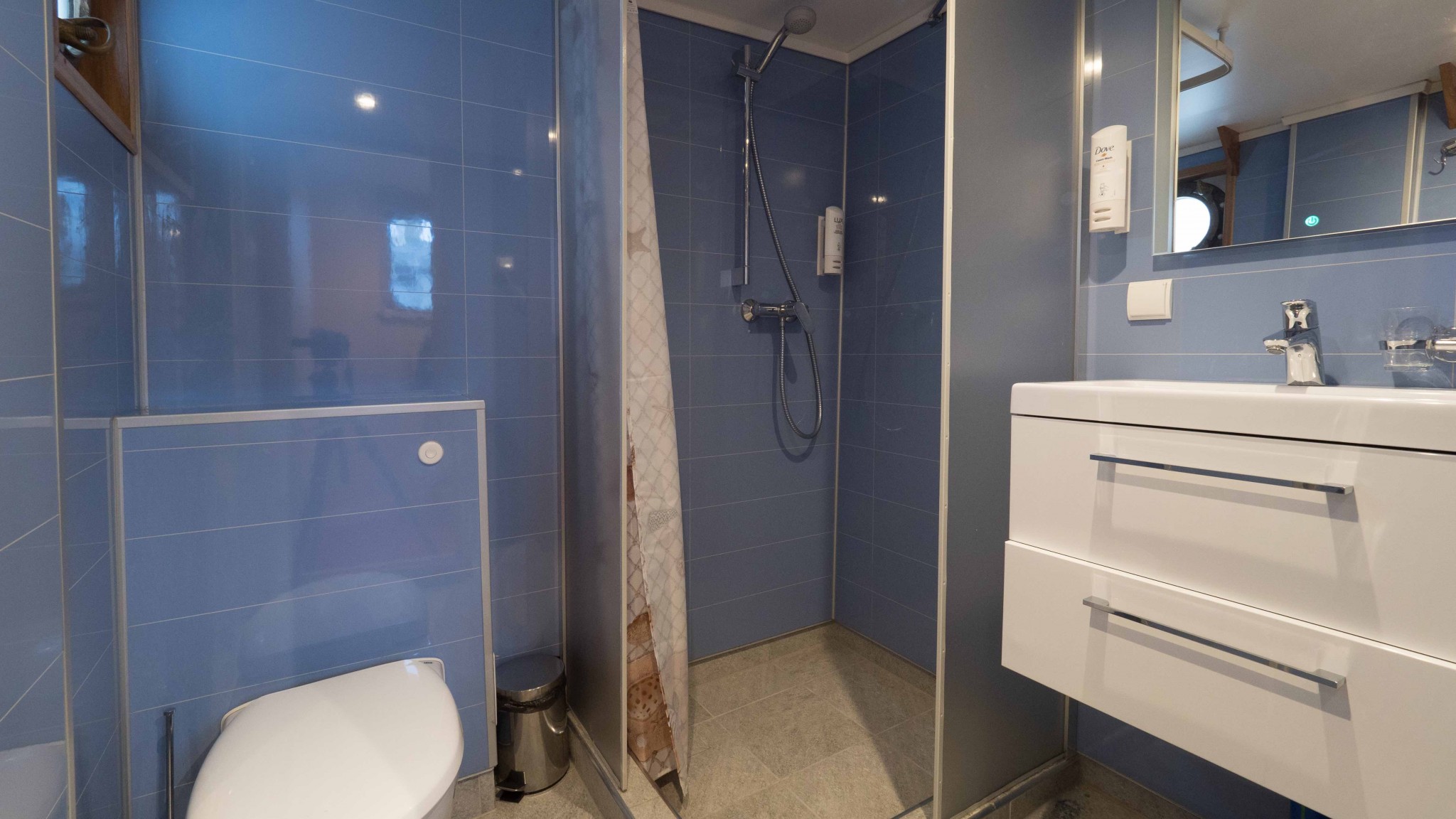 PASSENGERS
SIZE
VIEW
2
16.4 M² (179 FT²)
FORWARD WINDOW
Averaging 16.4 square metres/179 square feet, this cabin is located on the Main Deck. It features a Queen Size bed with private ensuite facilities, forward & side windows, two wardrobes, desk and chairs..
Sjîveien- UPPER SUITE 1
Sjîveien- UPPER SUITE 2
PASSENGERS
SIZE
VIEW
2
15 M² (162 FT²)
WINDOWS
Averaging 15 square metres/162 square feet, this cabin is located on the Upper Deck. It features a Queen Size bed with private ensuite
How to Book
To ensure your place on this exciting adventure, please contact us to reserve a place 02 6355 2022 or , then complete the Adventure Associates Booking Form and return to us with your USD 2500 per person deposit.
| | |
| --- | --- |
| Deposit required per person: | US$2500 per person |
| Balance due: | 90 days prior to departure |
| If booking within 89 days of departure: | Full payment must be made. |
Reservations are established when you receive written confirmation and acceptance of the deposit and Booking Form. Travel insurance is strongly recommended at the time of booking.
Cancellations
Cancellations must be advised in writing to Adventure Associates. Cancellation charges are subject to regulations of airlines, coach and tour operators, hotels and other principals involved. If it is necessary to cancel your arrangements, the following non-refundable charges will apply.
| | |
| --- | --- |
| More than 150 days prior to departure | US$1000 per person |
| Between 149 and 90 days prior to departure | Full loss of deposit per person |
| Between 89 and 76 days prior to departure | 75% of tour cost per person |
| On or within 75 days prior to departure | No Refund |
If the cancellation charge is more than your advance payment you remain liable for the difference. For these and other reasons mentioned above you are strongly recommended to take out Travel Insurance. Once the tour has departed there will be no refund for any unused portions of the trip.