Adventure Associates is delighted to be chartering the classical 20 passenger riverboat M/S Dorinha and invite you to join our exploratory voyage to the exotic Amazon River.
There's no better way to explore the essence of the Amazon River than being on board our cosy expedition riverboat, M/S Dorinha. Our captain and his naturalist team, help us discover hidden treasures within the rainforest's 'green walls'. Our flexible schedule allows us to make the most effective use of the river conditions and cooler times of the day. After dark, spotlighting from the canoes reveals caimans, pottos (a bird related to the nightjar) and other nocturnal creatures. New delight's and challenges greet us at every turn as we thread our way through extensive rainforest. Come, float with us under the canopy of some of the world's tallest trees or take a hike deep into the mysterious rainforest or, just enjoy relaxing on board, lying in your hammock watching amazing scenery drift by!
HIGHLIGHTS

Visit the Manaus Opera House (also known as The Amazon Theatre)
Cruise the innumerable tributaries which flow through one of the planet's last great wilderness areas
See the Amazon River dolphin, also known as the pink river dolphin or both which lives only in freshwater
Experience "The Meeting of Waters" a confluence of the dark Rio Negro with the sandy coloured upper Amazon River
Learn about the people of the Amazon, their customs and traditions
See an immense number of bird species. Over 1,300 of these species account for one-third of all bird species in the world.
The sloth – a crowd favourite and one of the most interesting animals that you may ever see.
The giant Amazon water lily (Victoria amazonica)
Embrace the Amazons hothouse of the world's most exotic plants, birds, fish, reptiles & animals

DEPARTURE/RETURN LOCATION
Manaus – Brazil
DEPARTURE DATES

22 February 2022 –  7 March 2022

21 February 2023 – 6 March 2023

DURATION
14 days/13 nights
PRICES per person

Twin share US$6,950  // Now US$6,255 
Single cabin US$10,425 // Now US$9,383

Book early and save 10%  this offer ends 30 April 2021 and only applies to direct bookings

GROUP SIZE
20 Guests
INCLUDED

Local transfers from/to Airport Manaus

1 night in a 4 *  Hotel in Manaus including breakfast on the 1st night

1⁄2 day city tour Manaus incl. Visit to the "Teatro Amazonico" Opera House

Program as described in the itinerary

All meals during the voyage (Breakfast, Lunch, Dinner)

Unlimited w

ater, coffee and tea during the voyage

Harbour docking fees, fuel and crewing

All excursions as described in the program

All 

Entrance fees 

Gratuities for ships crew 

On board Naturalists during the voyage for Lectures and Information

NOT INCLUDED

International air-tickets and taxes
Pre and Post land arrangements

Excess baggage on any flight
Vaccination costs

Passport or Visa fees
Travel Insurance

Items of a personal nature 
Any other meals or sightseeing not specified in the detailed itinerary
Additional information
Day 1
Join Manaus, Brazil
Welcome to Manaus! On arrival you will be met by a representative of Adventure Associates and transferred to your hotel. The rest of the day will be at your leisure.
Manaus is located in the heart of the Amazon rainforest along the banks of the Rio Negro – it is the capital of the vast state of Amazonas and is a major departure point for the surrounding area. Access to the city is primarily by aeroplane or boat and it is this isolation that has helped preserve both the surrounding natural environment and the culture of Manaus. D
Day 2
Embark Manaus
Around mid-morning today we will be welcomed aboard our cosy floating home M/SDorinha by Captain Mo and his crew. After settling into our cabins we will enjoy commanding views of our departure from Manaus as we head downstream about 10 kilometres to see the striking visual phenomenon called "Wedding of the Waters". Once underway we will have our intro briefing before starting our informative lecture programme that will help us unravel the mysteries of the Amazon.
The "Wedding of the Waters" is where the tea-coloured waters of the Rio Negro share the same channel with the brownish waters of the Rio Solimões. This meeting is due to the different speed, temperature and density of the two tributaries as they run side by side without mixing for more than 6 kilometres, forming the main Amazon River.
Eventually we will make our way upstream on the Solimões and will be cruising all afternoon and during the night to arrive in the area of the Rio Badajos. B,L,D
Day 3
Rio Badajos
The Rio Badajos area has one of the largest rubber plantations. We will learn how the rubber trees are tapped and smoked to extract the latex. The splendour of Manaus's past was built on the backs of slaves and indiginous Indians who worked under dreadful conditions. We hope to visit local villages today and meet the people who eke out their existence on the banks of the river. B,L,D
Day 4
Ega Village
Tefé town was once known as the old village of Ega, where the famous English naturalist, Henry W. Bates lived for many years in the mid 1800's. Bates was most famous for his expeditions to the rainforests of the Amazon with Alfred Russel Wallace, starting in 1848. Wallace returned to England in 1852, but lost his entire collection of specimens on the return voyage when his ship caught fire and sank. When Bates arrived home in 1859 after a full eleven years, he had sent back over 14,712 specimens on three seperate ships. Most of them were insects, of which 8,000 were believed new to science. Bates recorded his findings in his best-known work,The Naturalist on the River Amazons.
Today we are anchored near some islands which is one of the best locations on the Solimões for spotting sloths and monkeys. B,L,D
Days 5-7
Coari
During the next two days we will visit the area around Coari, which happens to be the brithplace of our Captain Mo! Coari is one of the most interesting and largest towns in the region. We will head to the lake behind town and enjoy some time on Jurupari beach.
After our refreshing visit to the beach we will sail downstream to the village of Anori. We hope to see beautiful water lilies and other aquatic plants and will take time to visit the floating town of Anamã.
On our way down the Solimõesthere will be time for talks with our Captain & naturalist, who will introduce us to life on the Amazon River and share some of their endless, fascinating stories. B,L,D
Day 8
Manaus
Back in the bustling harbour of Manaus, we will be treated to a guided city tour, visiting its most important landmarks. The opulent pink Opera House – more than 120 years old and representing the city's heyday during the rubber boom. It was chosen by Vogue magazine as one of the most beautiful opera houses in the world!
Fossick through the delights of the famous fresh food market, then admire The Cathedral of Our Lady of Conception in Manaus, that was officially opened in 1878 and elevated to cathedral status in 1946.
After our tour we will set sail upstream towards the mouth of the Rio Cuieras, leaving the busy metropolis of Manaus behind. B,L,D
Day 9
Rio Cuieras
We plan to take an early morning birding tour along the small river of Pagodao where we will experience a true sense of being deep in an Amazonian jungle. Here we hope to catch glimpses of exotic birds in the canopy. It will be luxurious to have a cool, refreshing swim in the safe waters of the Rio Negro. While we are in the black waters of the Rio Negro we will keep our eyes peeled for a view of the pink Amazon river dolphin. It is the largest of the river dolphins with males reaching a maximum length of around 2.55 metres (8.4ft). The grey estuarine dolphin is about half the length with a smaller head and shorter beak.
Later in the day we will motor further up the Rio Cuieras to observe another kind of forest – the campinha! This forest has scrubby trees, terrestrial orchids, bromelias and lichens growing on white sand.
In the evening we will enjoy a specially arranged BBQ on one of the sandy beaches, by a large fire. Tonight, you have the option of sleeping in a typical traditional hammock in a covered shelter on shore. B,L,D
Day 10
Rio Cuieras
Today we continue to travel further up the Rio Cuieras, passing a small side stream and waterfalls. During the day we will visit some local caboclo families and get a better understanding of what it is like to actually live in the Amazon jungle. Depending on the weather tonight, we will look out for the Southern Cross and other constellations of the southern hemisphere. B,L,D
Days 11-12
Anavilhanas
We spend the next 2 days exploring the four hundred island district of Anavilhanas. This is one of the largest fluvial archipelagos in the world. The area is known for it's abundance of birdlife such as toucans, parrots and macaws.
Our canoe rides will take us between the islands in search of birdlife and other animals. An evening canoe exploration will give us an idea of the ever active nocturnal life. We will also visit Novo Airao, where traditional Amazon riverboats are built. B,L,D
Day 13
Manaus – Aldeia Tupé
On our return to Manaus, we will visit the rubber tree museum Serengau Villa Paraiso which will give us a glimpse into the life of the rubber barons of the 19th century. We continue to Aldeia Tupé, visiting the indigenous Dessana tribe, who will perform a traditional dance celebration for us!
Back to Manaus, we enjoy our final dinner at a very typical Brazilian restaurant, the Churrascaria Buffalo and then spend our final night aboard our floating home. B,L,D
Day 14
Manaus, expedition concludes
Disembark in Manaus and transfer to the airport for your onward flights home. B
Please note: As the above program is an expedition cruise into remote places of the Amazon river, the final itinerary is subject to changes. Possible changes to the above itinerary due to water levels and nautical reasons will be advised aboard on a daily basis.
Captain Mo
Moacir Fortes Pereira (nickname "Mo") was born in 1943 close to the little village of Coari on the riverbanks of the Amazon.  During his childhood he learnt English by reading American papers and found a career as an accountant.  He managed a hotel in Manaus for 15 years before guiding as a local Amazon expert. This was his real passion, and in 1976 he became a professional tour guide.
His first contact with the expedition industry was in 1971 when the M/S Explorer first called into Manaus. Since then Mo has become the most legendary Amazonian guide around. He enjoys sharing information about the natural history and people of this area where he was born and spent his life.
Dr John Harwood
John was born in the UK and studied botany and microbiology at London University, and worked in Swaziland, France, Burundi and the U.S. before moving to his present home in Manaus. He worked for Brazil's National Institute for Amazonian Research for eight years before embarking on his current career as a naturalist and lecturer. He also wrote a book called A Minstrel and the Amazon: A story of his study of music, social spectrum, forest and rivers in the Amazon. He has such a diverse background and also speaks Portuguese, German, French, Spanish and Russian. He is a wonderful and inspiring musician; making him a great member of our team.
M/S Dorinha
M/S Dorinha was inaugurated in May 2005. She is the 4th upgraded riverboat of the fleet, built to accommodate 20 passengers in a familiar, private and cosy atmosphere. She has 12 air-conditioned cabins with bunk beds, private bathrooms and large windows. M/S Dorinhahas 3 main decks:
The sun deck, that is partly covered and has plenty of deckchairs and hammocks for relaxing on.
The upper deck is the Bridge Deck as well as 4 passenger cabins, the restaurant, bar and library.
The main deck has 8 passenger cabins, galley and crew quarters.
There is also a swimming platform off the stern, perfect for those refreshing jumps into the river. The vessel is equipped with 3 motorised canoes for daily excursions.
| | |
| --- | --- |
| FLAG: | Brazil |
| BULIT: | May 2005 |
| PLACE BUILT: | Novo Airao |
| ENGINE:  | 300 HP MWM Diesel |
| LENGTH OVERALL: | 27 metres |
| BEAM:  | 7 metres |
| MAXIMUM DRAFT:  | 1.2 metres |
| CRUISING SPEED:  | 7 knots |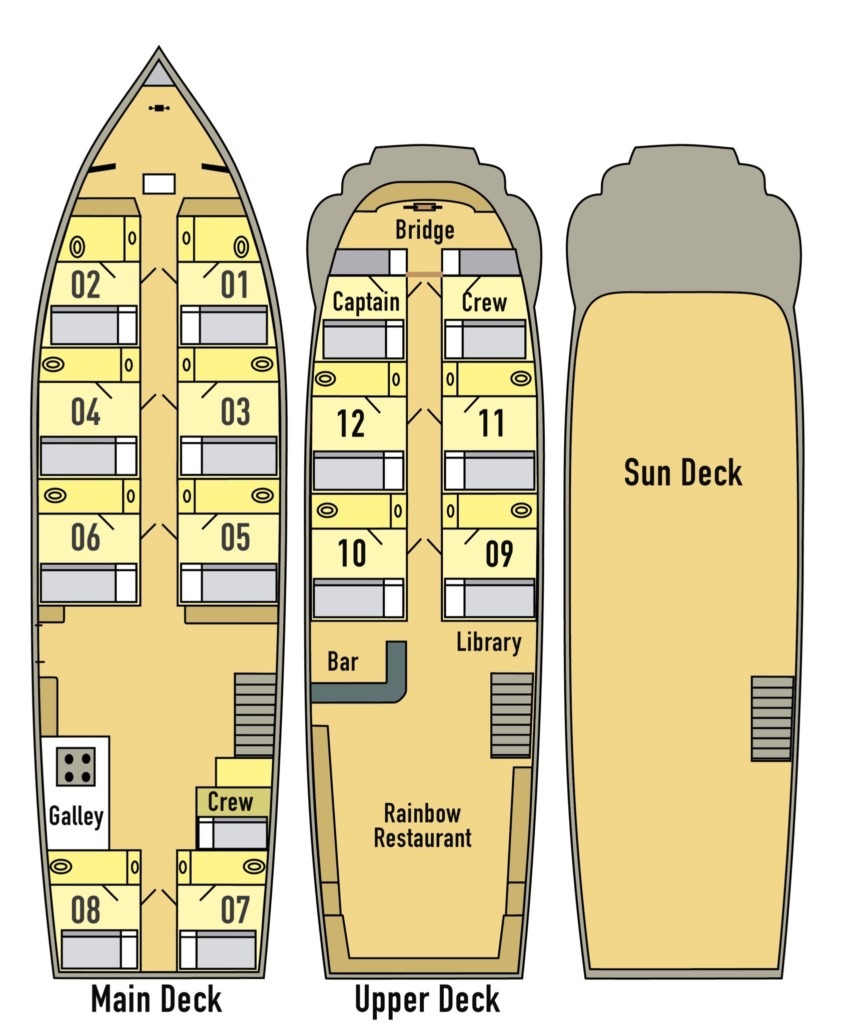 Deck Plan
How to Book
To ensure your place on this exciting adventure, please contact us to reserve a place 02 6355 2022 or , then complete the Adventure Associates Booking Form and return to us with your USD 500 per person deposit.
| | |
| --- | --- |
| Deposit required per person: | US$500 per person |
| Balance due: | 90 days prior to departure |
| If booking within 89 days of departure: | Full payment must be made. |
Reservations are established when you receive written confirmation and acceptance of the deposit and Booking Form. 
Travel insurance is strongly recommended at the time of booking.
Cancellations
Cancellations must be advised in writing to Adventure Associates. Cancellation charges are subject to regulations of airlines, coach and tour operators, hotels and other principals involved. If it is necessary to cancel your arrangements, the following non-refundable charges will apply.
| | |
| --- | --- |
| More than 150 days prior to departure | US $250 per person |
| Between 149 and 90 days prior to departure | Full loss of deposit per person |
| Between 89 and 76 days prior to departure | 75% of tour cost per person |
| On or within 75 days prior to departure | No Refund |
If the cancellation charge is more than your advance payment you remain liable for the difference. For these and other reasons mentioned above you are strongly recommended to take out Travel Insurance. Once the tour has departed there will be no refund for any unused portions of the trip.